Mansion/Museum in the Heart of Greenwich Village
Our 5-story landmarked Mansion/Museum is in the very heart of Greenwich Village, just off 5th Avenue, near Washington Square Park. Built in the1800's—step inside our Mansion, and find yourself in the Great Gatsby's New York City. *RIGHTS: When you shoot anywhere in our Mansion/Museum, you have the rights to include all the art, the furniture, and the antiques. *IF you prefer, almost all the art, furniture, and antiques can be moved or removed to accommodate your needs. *Sound: Naturally soundproof, there are no city sounds heard in most of our Mansion/Museum. *Your booking includes 5 lavish rooms: First floor: *—A Stunning 1800's Parlor, 25'x 14'. Our lighted cabinets display antiques that the centuries have bequeathed to all of us. *—Our Glass Gallery, 20'x15', luminous with its Permanent Exhibition of American glass and ceramics. *Sound: Tucked in far away from the street, there are never urban sounds in the Parlor or Glass Gallery at all. *Excellent for wardrobe, hair, makeup, break rooms Second floor: *—Our Ballroom, 60' x 15', with a 20-foot high Baroque ceiling. The Ballroom includes: A grand piano A one-of-a-kind 'Phantom of the Opera' Chandelier. A 12-foot skylight bathing our Ballroom in natural light. A huge arched window with a panoramic view of the opulent, flourishing gardens and trees of this historic Greenwich Village neighborhood. Sound: Surrounded by 2 acres of Nature, naturally soundproof with no urban noise Our Ballroom was designed by the world-renowned architect Stanford White, who famously gave New York City the original Madison Square Garden, the Greenwich Village Washington Square Arch and, also in Greenwich Village—our Ballroom. *—Our Formal-But-Fun Dining Room and Gallery Space, 30'x 16'. The Dining Room includes: A Marble Floor Leaded Glass Doors The Original Fireplace, Mantelpiece, and Architectural Features. A Permanent Exhibition of the beloved Al Hirschfeld's legendary Art. *—Our Kitchen, a spacious 17' x 15', is immediately but inconspicuously accessible to the Dining Room and the Ballroom. It is the perfect Green Room. *—Our Outdoor Terrace, 8' x 8', is part of our Kitchen. Smoking IS permitted. Fourth floor, booked separately, and ALL naturally QUIET: *—Our Outdoor Deck, app. 20' x 20' with a ceiling height of Heaven. *The Outdoor Deck also includes; Our Treehouse, a cozy indoor room with 3 sides of glass. A spacious marble, mirrored Restroom and jacuzzi.
1886 Victorian Mansion & Cottage with Woods
**NOT IN NYC, LOCATED IN WESTERN NY NEAR ZIP 14895** Budget friendly! Perfect for horror/suspense/period piece, etc. Victorian mansion and smaller house/cottage on 5 acres in Western NY. Main house has 9 fireplaces, original wood paneling & stained glass, huge formal entry and stairway with 3 levels and large basement. Decorated in a true late Victorian style, house is being renovated and has both beautiful and abandoned/spooky areas separate from each other. Basement has a large antique iron furnace [nonoperational], perfect for horror. Cottage in back is a 2 story 3 bd house with full kitchen-- 2 houses on one property to cheat multiple locations. Huge yard, trees hide power lines and neighboring houses. Perfect for filming, small parties, showers, luncheons, teas. Plenty of parking, country setting on the edge of the forest in a charming little town with a park, gazebo and main street of shops. Minutes off of a freeway but quiet-- no planes, no freeway noise. Full kitchen, some catering equipment, wardrobe equipment and production office with wifi all available on-site. Rate is negotiable, please inquire, will work with your budget. 5 hr drive from NYC & Philadelphia, 1 hr 45 drive from Erie. 75 miles from Buffalo & Rochester airports. Many b&b and Airbnb accommodations in area.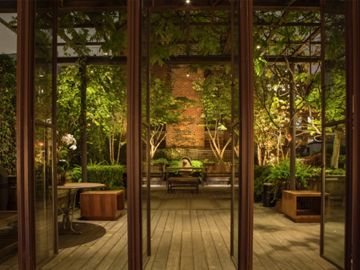 SoHo Townhouse
This property is prominently located in Soho with five meticulously designed levels. It has vast amenities such as a full kitchen, indoor pool, outdoor terrace, state of the art audio surround sound equipment, high end furniture and decor appointed on each floor, and home theater, to name a few things. The versatility of this magnificent property makes it a great venue to have successful unique photo shoot or film shoot experience. Though the location has not been widely advertised, it has in the past become a converging point for renowned global leaders of various industries, celebrities, rising innovators and entrepreneurs, emerging and established music artists, and worldwide nonprofits.