1886 Victorian Mansion & Cottage with Woods
**NOT IN NYC, LOCATED IN WESTERN NY NEAR ZIP 14895** Budget friendly! Perfect for horror/suspense/period piece, etc. Victorian mansion and smaller house/cottage on 5 acres in Western NY. Main house has 9 fireplaces, original wood paneling & stained glass, huge formal entry and stairway with 3 levels and large basement. Decorated in a true late Victorian style, house is being renovated and has both beautiful and abandoned/spooky areas separate from each other. Basement has a large antique iron furnace [nonoperational], perfect for horror. Cottage in back is a 2 story 3 bd house with full kitchen-- 2 houses on one property to cheat multiple locations. Huge yard, trees hide power lines and neighboring houses. Perfect for filming, small parties, showers, luncheons, teas. Plenty of parking, country setting on the edge of the forest in a charming little town with a park, gazebo and main street of shops. Minutes off of a freeway but quiet-- no planes, no freeway noise. Full kitchen, some catering equipment, wardrobe equipment and production office with wifi all available on-site. Rate is negotiable, please inquire, will work with your budget. 5 hr drive from NYC & Philadelphia, 1 hr 45 drive from Erie. 75 miles from Buffalo & Rochester airports. Many b&b and Airbnb accommodations in area.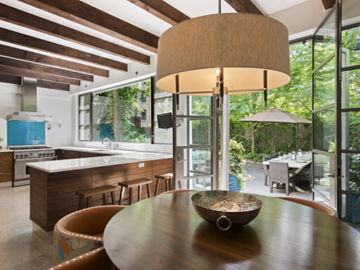 Sophisticated townhouse
Upper East side townhouse, TRIPLE WIDE in the back including garden. 8,000 sq feet, 12 ft ceilings. All entertaining areas on one floor which is unique for townhouse: kitchen, living room, dining room and garden. Mix of traditional and contemporary architecture and decor. 5 floors, elevator runs throughout house. Very film friendly.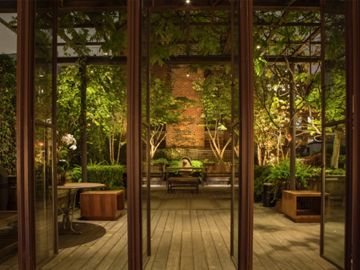 SoHo Townhouse
This property is prominently located in Soho with five meticulously designed levels. It has vast amenities such as a full kitchen, indoor pool, outdoor terrace, state of the art audio surround sound equipment, high end furniture and decor appointed on each floor, and home theater, to name a few things. The versatility of this magnificent property makes it a great venue to have successful unique photo shoot or film shoot experience. Though the location has not been widely advertised, it has in the past become a converging point for renowned global leaders of various industries, celebrities, rising innovators and entrepreneurs, emerging and established music artists, and worldwide nonprofits.