Rent Class venues in Pasadena, CA
Find the right location for your next Class. Browse a wide variety of local Class locations throughout Pasadena, CA and book your venue in minutes on Giggster.
How to rent Class locations in Pasadena, CA
Search locations in Pasadena, CA
Explore our wide variety of unique film and event friendly locations.
Contact hosts
Connect with hosts to set up scouts and lock down the details
Book your venue
Reserve your Class venue in just a few clicks.
Pacific Lift and Equipment Office and Warehouse
We have a large lot with parking, office spaces, warehouse spaces in the desirable Pasadena area. Behind our building we have a park that can provide additional parking. Our warehouse and office is very clean. We have conference rooms, offices in the warehouse, tall roll up doors, and plenty of restrooms. We are a operational business that works Monday - Friday 6:30am to 5:30pm and we would prefer shooting take place on weekends but are willing to work out shooting during the week. A site rep and cleaning service is required and will be paid by the customer.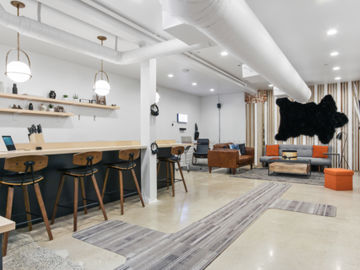 Salon / Barbershop / Office Space Cool, Edgy,
Cool Salon / Barbershop / Office space with a warm vibe centrally located in Pasadena.
Modern Office Space for Events & Filming
Modern Newly Renovated Full Kitchen for Parties, Workshop, Meetings, Filming, Interview, Photographing/Production Use located near DTLA, Old Town Pasaden, South Pasaden & Hollywood Our newly renovated 6,500 sq ft Pasadena office offers a spacious & convenient indoor/outdoor location available for TV series shoots, filmed interviews, web series shoots, commercials & small productions. Appropriate for production with cast/crew group up to 20. Conveniently located blocks away from South Pasadena and Old Town & Art Center. Easily accessible from the 110 & 210 freeways. Specs & Amenities: • 1 Conference Room [300 sq ft] • Full, modern kitchen [250 sq ft] with large dining/meeting table • Private Outdoor Patio [1,500 sq ft] • 1 restroom + shower [handicap accessible] • WiFi + AV • Parking: reserved spaces available in our private lot for off hours and weekend bookings only. Limited parking spaces can be negoiated for bookings during our operation hours, Monday to Friday, 9am to 6pm. • On-site manager present to answer any questions throughout booking. Conference room, kitchen & outdoor patio are located next to each other, with a connecting door which can be opened for a larger, different set up preference. Our on-site manager will coordinate with you to ensure all needs are met for a successful shoot. Here are some general policies to keep in mind: * All rentals include load-in and strike time. If your booking runs over time, you will be charged time and a half per Peerspace policy. *Insurance cert. is needed. A security deposit may be requested depending on size & scope of your project. * Child talent must be pre-approved before your production. * No loud music/noise outdoor after 10:30pm * This is a smoking & drug-free zone. No smoking will be permitted on the premises. * Furniture can be moved but must be returned to original setting prior to end of booking. Please inquire for permission first. * Trash should be placed in the bins and large disposable trash in our dumpster located at the back of the building in the parking lot.