Rent Photo Studio venues in Culver City, CA
Find the right location for your next Photo Studio. Browse a wide variety of local Photo Studio locations throughout Culver City, CA and book your venue in minutes on Giggster.
How to rent Photo Studio locations in Culver City, CA
Search locations in Culver City, CA
Explore our wide variety of unique film and event friendly locations.
Contact hosts
Connect with hosts to set up scouts and lock down the details
Book your venue
Reserve your Photo Studio venue in just a few clicks.
Westside Sound Studio with White Cyc & Brick Wall
Our Studio is a one-stop facility to support productions. The studio was designed with digital and independent content creators in mind, and provides an unique and welcoming setting. We're equipped with a White Cyc cove, a support room (ideal for makeup, wardrobe, or talent holding), quiet-running air conditioning, and echo reducing insulquilt. The Studio has access to a full kitchen, lobby, and conference room, as well as a gated parking lot with a private entrance from parking to the Studio. Brand new lighting and camera gear is available for rent upon request, utilizing the modern technology of LED lighting. Two spaces are included: Studio with support room. We have additional space available on site - Conference Room, Lobby, Kitchen PRICING: - For a shorter day, site rep fee can be lowered, please inquire. - (2) Parking Spots are included. $20 per spot after (up to 7 total). OVERTIME: For time past pre-booked hours. $250 per hour in 30 minute increments (includes OT for Site Rep).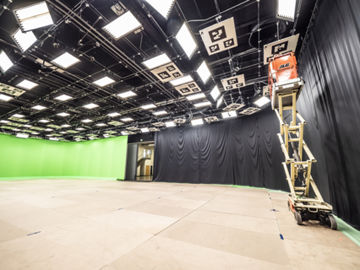 Beautiful Sound Stage Facility
Please message us for more accurate pricing. Our studio provides both traditional and virtual production needs for any type of project whether its a photoshoot, music video, commercial, industrial, video game, television or feature film. The stage is equipped with a 360-degree wrapped green screen with a painted floor. The stage can be easily converted from a green screen to a black box set up. The studio interior is rated at STC48 and boasts a silent A/C system. Access to the stage is via a rolling 16' x 20' sound door. Please inquire for more details and come take a tour! Minimum Daily Rate that is shown is based on a still shoot with a crew/talent size of 15 or less @ 12hrs/day. Rates may increase depending on use of other areas. Please inquire for rates and include the following details: Job Name: Dates Needed: Crew/Talent Size: Miscellaneous Info Relevant to Your Shoot:
Elektric Studio
Our space is perfect for professional productions including photo shoots, commercial and music videos or private experiences. Photo-ready from every angle, this striking space has a multi-color LED wall and ceiling. It truly provides a room for all your needs. Central air conditioning, two restrooms, Wi-Fi, sound provided by Bang & Olufsen.