Rent Loft venues in Chicago, IL
Find the right location for your next Loft. Browse a wide variety of local Loft locations throughout Chicago, IL and book your venue in minutes on Giggster.
How to rent Loft locations in Chicago, IL
Search locations in Chicago, IL
Explore our wide variety of unique film and event friendly locations.
Contact hosts
Connect with hosts to set up scouts and lock down the details
Book your venue
Reserve your Loft venue in just a few clicks.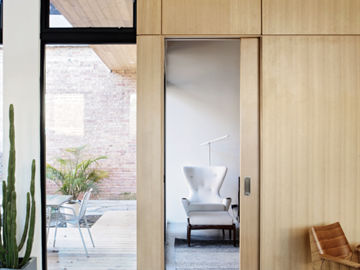 Architecture Studio Showroom + Courtyard
The private showroom space is one of four separate suites inside of a rehabbed 1900's grocery store in Logan Square. The open floor plan and attached courtyard is ideal for creative pursuits such as film and photo shoots or chef/beverage product introductions. Large floor to ceiling windows provides fantastic natural light. Exposed brick and steel beam running through the courtyard and inside the space provides architectural interest. This is a bright, modern studio. There is a private entrance, on a quiet side street, that opens into a vestibule leading to the space and a basement. The entry vestibule is a perfect spot to store equipment and staging gear, as is the garage. The garage off the alley, and double doors leading from the garage to the courtyard, makes for easy load-in and move out. The space consists of an open kitchen, living and dining area, master bedroom with ensuite bathroom and a second full bath. We recently received a Historic Preservation Award for the newly rehabbed building (2017) and it was featured in Dwell, Curbed House Calls, Dezeen Architecture & Design Magazine, and ArchDaily.
Large Modern West Loop Loft Space
Large 4,800 square foot, multi-room, creatively designed, West Loop/Chicago Loft space. High ceilings, spacious and modern, with white walls and exposed brick walls. Cool modern and mid-century furnishings and artwork. Open floor plan, but also with private and semi-private rooms.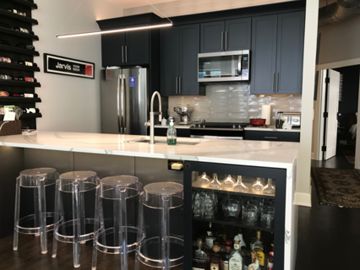 Chicago Playboy Loft
Located in one of the most popular and desired neighborhoods in the Country (CNN, GQ & AD magazines). This extraordinary loft like condo has a highly unique and truly urban feel. It has an abundant outdoor terrace with affluent stylized interior fixtures and custom woodwork throughout- giving the property a "wealthy playboy" vibe. It is truly a dynamic residence. Along with the open design, there is a dazzling open fireplace that connects the entire living and dinning area. There are two large dinning tables (inside and out) that can easily seat 8-12 people each. The patio itself can hold a group of 30 easily. The large open windows and three sliding glass doors make it feel open and connected to Chicago and the vibrant city restaurants and entertainment just one floor below.