Downtown Oakland's premier Photo and Video Studio
We have top of the line Profoto equipment (not the cheap Alien Bees like our competitors). We have a wonderful 650 square foot studio/event space for rent in Downtown Oakland's famous city center and theater district. We are located in front of the Frank H. Ogawa Plaza park, facing Oakland's beautiful city hall. We are also just 50 ft from 12th Street City Center BART station. An ADA compliant bathroom and we are right at street level so no stairs or funny access to worry about. Just walk in off the street and you're here. Inside our space we have, 14' high ceilings, 2 hair/makeup tables and 3 large mirrors for clients to use. We have ample photo, video, audio, and lighting equipment if you want to record your event or stream it online. We have a 55" TV and a short throw video projector available. The studio is fully stocked and comes with two Profoto 600ws flashes for photos or two 3000 bi-colored dimmable LED constant light panels for videos and has up to 6800ws of Profoto flash power to rent if needed. PRICING Just $50/hr on Weekdays between 9am-6pm $65/hr on Weekends and Weekdays after hours. There is a 2-hour minimum rental on Weekdays and 3-hour minimum rental on Weekends. Rules: Nothing illegal on premises. No smoking, drugs, pornography or acts of sex allowed on premises. No alcohol without prior consent. And if you break it, you buy it. Please, take care of our photo/video equipment as it if it is your own; we have professional grade equipment available to our guests and expect our guests to be comfortable and competent using it properly. Every client who books our space is responsible for any damages that may occur. If you are not comfortable with using our equipment and being liable for any damages, then you are welcome to bring and use your own equipment. Or, if you'd like to learn how to use our equipment, we suggest hiring our Studio Assistant who can stay with you during the rental and show you how to use our equipment properly. This can be invaluable if you want to rent and use our space on a regular basis. Studio Assistants are $100/hr extra. When gauging time management of your production, it's generally safe to allow yourself and your crew 15 - 30 minutes for setup and breakdown. We will not open the door 10-15 minutes early to let you set up unless you ask us prior and/or book the extra time. Our studio assistant will help out for about 10 minutes to set up one or two photo or video lights if they are needed, and they will show you how the Air Conditioning and music works, and the safety features of our studio, like where the first aid kit is (always good to be safe). If you need our Studio Assistant to stay longer, then there will be an added charge for thier help. With few exceptions, we offer a 10 minute grace period to clients, but after that grace we wiil need to charge for extra time in 30 minute incriments.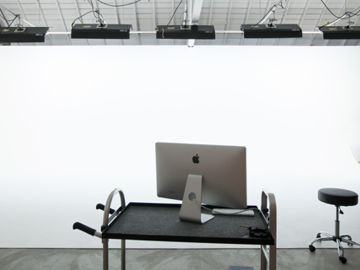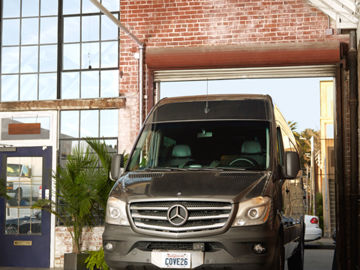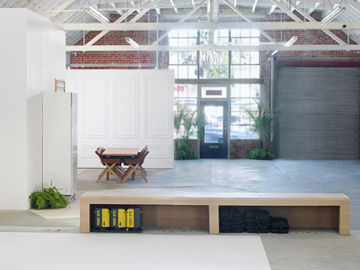 3,800ft² Studio with Pre-lit 38' Infinity Wall
This space is a large versatile shooting studio offering diverse backdrops along with a prelit 38' white infinity wall or keying backdrop. Designed for flexible shooting needs, this space also offers a backdrop of aged brick for a loft-like look. The kitchen offers a professional stove, concrete countertops, and a custom dining table for crew meals and catering or a production-ready set. On site grip and equipment rental. The main stage has a 16' tall blackout and sound damping curtain for sound and light control, as well as speed rail infrastructure to allow for various rigging configurations. Riggers are available for a low day rate. SPACE FEATURES 3800 ft² studio space 20x38' infinity wall 5 Kino 4x4 Bank rigged on speed rail infrastructure 16' tall ceilings 12.5' high truss with speed rail supports 12' Automatic roll-up door Inside parking for grip truck or space for 2 cars Three-phase 400 amp power More than 45 dedicated circuits around the main stage Hair and makeup station Production-ready kitchen 1 restroom ——————— INCLUDED IN BOOKING RATE Private use of 3,800 ft² Main Stage 38' Infinity Wall Production-ready Kitchen Hair and makeup station All listed under space features ——————— OPTIONS (SUBJECT TO ADDITIONAL CHARGES) * Any rental requires an insurance certificate 72 hours prior to booking * Camera, grip, and lighting available on site * Speed rail infrastructure * Catering with prior arrangements * Freshly painted white infinity wall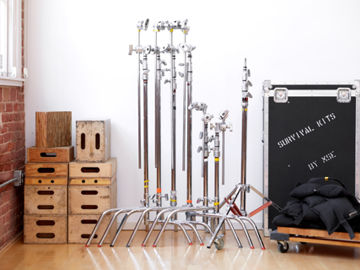 Photo Studio Loft with Natural Light
Spacious, open converted historic Brick and Timber Cigar Factory loft with warm exposed brick and light hardwood floor details. 2100 Square foot floor plan photography studio with high ceilings and natural light. Full kitchen with 5 burner gas stove and huge 9ft rolling counter space. Perfect for use by food stylists, chefs, and caterers. Free use of 10ft Foba camera stand, C-Stands, Apple boxes, sand bags, grip included with FULL DAY rentals only. (8hrs+) Additional rental fees apply for non full-day rentals of equipment. Additional photo equipment; grip, Profoto lighting and prop/surface rentals available on-site by reservation.