Multi-purpose creative studio in Pasadena
Acrotopia Creative Space, presented by Dunker Media, is a small and cozy private space for all types of creative and wellness activities: yoga, dance, rehearsals, auditions, small photo and video productions, workshops or small gatherings. It is located in East Pasadena, right off the 210 freeway, on Madre and Green Street. The space is a converted double garage of 400 sqft approximately, with laminate floors, mirrors, a keyboard, recording material, speakers, chairs, a tambourine and a guitar, and a kettle for coffee and tea (included with rental fee). There is a cozy outdoor bathroom just outside the studio, and the use of the garden/patio is also included in the fee. All activities of 1 hour minimum are welcome, as long as they are not too loud, to avoid disturbing our neighbors. We can't wait to share our Acrotopia Creative Space with you!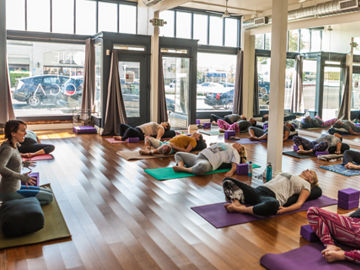 Peaceful, Bright, Light and Warm Yoga Studio
Beautiful yoga and mediation studio space. Two rooms available with high ceilings, skylights and large front windows that allow for great natural light. Yoga room has bamboo floors, floor to ceiling mirrors on one wall, charming red brick on the back wall with industrial warehouse windows. Meditation room has concrete floors, with plush rugs, minimal furniture, 200lb citrine crystal on a small table. Also have a lobby area, a changing room with small restroom and two showers and an accessible restroom, all of which can be used for back of house/makeup/costume etc. Plentiful street parking is available for crew and trucks.
Pacific Lift and Equipment Office and Warehouse
We have a large lot with parking, office spaces, warehouse spaces in the desirable Pasadena area. Behind our building we have a park that can provide additional parking. Our warehouse and office is very clean. We have conference rooms, offices in the warehouse, tall roll up doors, and plenty of restrooms. We are a operational business that works Monday - Friday 6:30am to 5:30pm and we would prefer shooting take place on weekends but are willing to work out shooting during the week. A site rep and cleaning service is required and will be paid by the customer.