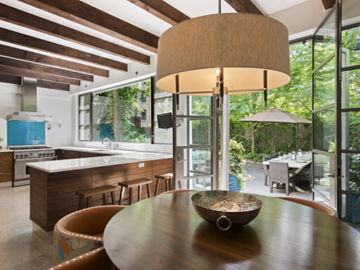 Sophisticated townhouse
Upper East side townhouse, TRIPLE WIDE in the back including garden. 8,000 sq feet, 12 ft ceilings. All entertaining areas on one floor which is unique for townhouse: kitchen, living room, dining room and garden. Mix of traditional and contemporary architecture and decor. 5 floors, elevator runs throughout house. Very film friendly.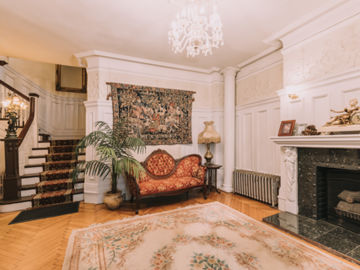 Manhattan Mansion
We are extremely film / photo shoot friendly , and are willing to do whatever it takes to accommodate your needs during your time working here. Some of the Film and Photo companies who have used our Mansion are "Law & Order". "Hitch": starring Will Smith:, "50 Cent" in a Reebok Commercial, Meredith Vierira for a Public Health Commercial, "Maxim" Magazine , a "Victorias Secret" photo shoot , "Unforgettable" a CBS TV series and many, many more. This French Baroque style Mansion completed in 1902, with carved limestone facade, has 5 fireplaces, 14" beamed Ceilings, Mahogany Paneled walls and multiple architectural details both inside and out. Large French Door windows with walk on Juliette Balcony's, and Mahogany pocket doors between Grand room and Dining room. Period furniture and Antiques. Decked roof garden with great Hudson River Views. This elegant home has a rich history. The Miller family are the owners since 1994 and have restored the mansion to its former grandeur. This residential building is located on one of the best blocks in New York City ( according to "Time Out" Magazine ). Located on a double wide street, we are an ideal film or photo shoot location. The classic beauty of its interior and its unique Landmarked limestone and brick exterior creates an exceptional working environment. There are several spaces within the residence that offer a distinct architectural style and atmosphere. A fully paneled mahogany living room has beamed ceilings, and a working fireplace. The Parlor and Formal dining room afford infinite artistic possibilities. Huge sliding pocket doors, 14 foot ceilings, large sun-lit windows, French doors, 3 working fireplaces, an ornate curving 5 story staircase, period furniture, antiques and crystal chandeliers create a touch of historic elegance. A modern, fully decked rooftop terrace with Hudson River and cityscape views adds to the flexibility of the space. This mansion is a private residence so you are insured full cooperation for your shoot day or night. From a single days shoot to recurring location possibilities, this cost effective and versatile space offers ample room for the set and crew.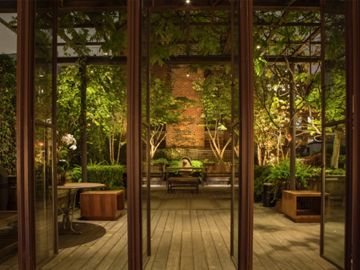 SoHo Townhouse
This property is prominently located in Soho with five meticulously designed levels. It has vast amenities such as a full kitchen, indoor pool, outdoor terrace, state of the art audio surround sound equipment, high end furniture and decor appointed on each floor, and home theater, to name a few things. The versatility of this magnificent property makes it a great venue to have successful unique photo shoot or film shoot experience. Though the location has not been widely advertised, it has in the past become a converging point for renowned global leaders of various industries, celebrities, rising innovators and entrepreneurs, emerging and established music artists, and worldwide nonprofits.