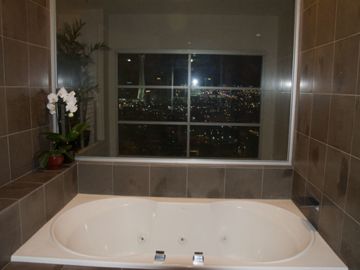 Penthouse Loft with Las Vegas Strip View
Penthouse loft with incredible view of the Las Vegas Strip. Contemporary minimalist loft design with 25 foot ceilings.
Chinatown Plaza / Asian Pacific Cultural Center
Las Vegas Chinatown Plaza Along Spring Mountain Road in Spring Valley is a series of strip malls with ethnic Chinese and other pan-Asian businesses, with the original called Chinatown Plaza. Historically, the strip mall was conceived by Taiwanese American JHK Investment Group, Inc. and opened in 1995. Nevada Governor Kenny Guinn officially designated the area as Chinatown in October 1999 and it continues to grow as the Asian population in Las Vegas expands rapidly. The Chinatown area has gained much popularity, receiving national attention in a 2004 article by The Wall Street Journal (See Further Reading below for the specific citation). Huffington Post classifies Las Vegas Chinatown along with Atlanta-Chamblee, Dallas-Richardson, and North Miami Beach as a "modern" styled Chinatown, that contrasts with the historic core Chinatowns like New York and San Francisco. The Chinatown is pan-Asian in nature instead of being completely Chinese according to the previous source. The official website for the Chinatown Plaza indicates that Spring Mountain Road is the general corridor for the neighborhood. The history of Chinese population in the Las Vegas Valley shows that the Chinese population remained small throughout most of its history. As a result, a Chinatown could only be created with initiative from entrepreneurs that would in essence fabricate a scenario that came naturally in other large cities that have historically important Chinatowns. According to Tsui in her book, Las Vegas's Chinese population boomed starting from the 1960s and by the 1990s, the Chinese population grew to 15,000 with the majority working in the casino industry. Even as the population grew, the "Chinatown experiment" could not rely on the local Chinese population to create it, but relied on a label on the plaza itself before people knew it was "Chinatown". As a saleswoman visiting the Chinatown answered "How do I know this is Chinatown?" Her answer was "Because it says so right on the arch, in Chinese characters (Zhongguo Cheng)" According to Tsui's book, Senator Harry Reid "... ordered a sign to be put up for Chinatown [along Interstate 15]..." but was taken down by the order of the governor of Nevada Bob Miller. In 1996, the Clark County, Nevada designated the area as "Chinatown". Chinatown Plaza opened for business in 1995, by 1996 it was proclaimed by Clark County to be an "Asian Pacific American Cultural Center". WSJ featured Las Vegas Chinatown Plaza on April 28, 2004. Featured numerous times in the local newspaper "Las Vegas Review Journal" such as on April 21, 2016 & July 23, 2013. In 2005, Chinatown Design Overlay District: The Chinatown Design Overlay District is hereby established to protect the Asian character of Chinatown Area by using additional design standards. The purpose of this overlay district for Las Vegas Chinatown is to physically and architecturally unify the existing and proposed development within the area, and to maintain the oriental character and the cultural heritage of Chinatown. It is also the purpose of this Design Overlay District to assure the implementation of a comprehensive design review process through the use of the following criteria: *Continuity by physical integration of architectural components
Executive Luxury Estate for high end events!
LUXURY ESTATE VENUE This gorgeous 25,000+ square foot castle style estate is situated on 2.2 acres and less than a mile from the Las Vegas strip. This is the perfect venue to host your next Corporate Outing, Launch Party, Wedding Rehearsal, or Social Event with over 300+ guests list! Click below to see a video of the Venue https://www.youtube.com/watch?v=fT15vxO4ir8 Custom pricing is available upon request depending on availability. Hourly rate varies from $150 to $500/ hr depending on the type of shoot, production and crew size. There will be a site rep present to assist, answer any questions you might have and to help make your experience the best one. There are over 8,000+ indoor event space with a Pool Table, Full Bar Setup, Poker Rooms, and 15,000+ outdoor space with a pro-sized tennis court. There's 30 parking space and Valet Service available upon request. There are 2 large Master bedrooms with 2 full bathrooms, Large Kitchen and Dining Area, with 2 additional bathroom in the indoor area. There are also 2 additional guest rooms in the outside back area with 2 full bathroom. Inquire within for multiple days booking or overnight stay.