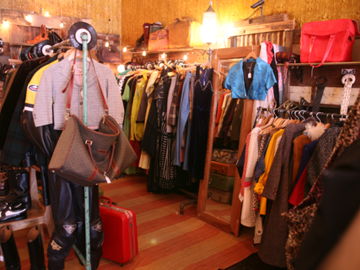 Vintage storefront w/ speakeasy bar in the Mission
Our space is a curated vintage furniture store with multiple living-space vignettes brimming w/ vintage props and decor. Reclaimed wood and victorian tin paneling line the walls w/ dramatic tin-lined high ceilings overhead. We have a back room designed as a "speak easy" bar w/ a rustic wood bar, shelving, wood-lined walls, a loft accessible by rustic wooden ladder, and weathered wood floors. Store has two large front window displays for natural light, back space has two large skylights and dozens of lamps around the space for as much or as little light as needed.
Modern, Industrial Event Space
We're a locally-owned, grassroots, avant-garde space in SF! Day-to-day, we're a renowned record shop celebrating global dance music culture. But, when we roll the records into storage and turn down our designer lights, we host wedding receptions, dinner parties, pop-ups, dance parties, film productions, influencer tour stops, album releases, corporate mixers, and everything in between. With a wide-open, industrial style, contemporary sculptural lighting, double-height exposed brick, and a custom sound system including access to a range of DJs, our space serves as an authentic backdrop for discerning planners--we're versatile enough to accommodate many different styles. We love hosting parties and would be delighted to share our 125 capacity space with you! 125 guests max | Street level | 1200 sq. feet | Storefront | 2 Rooms
Unique North Beach Gallery
We are a unique North Beach gallery specializing in original posters. The space is aprx. 1300 sqaure feet with 17 foot ceilings. North Beach is a vibrant neighborhood with amazing restaurants and incredible nightlife. Our space can be used for cocktial parties, photo-shoots, meetings, intimate catered dinners or luncheons, birthday parties and even art shows! Bar packages, additional chairs/tables, doorman/security & A/V services all available at an additional cost. We always recommend that potential party renters come by to see the space in person before deciding if it will work. Amplified and/or live music is allowed but may require the acquisition of entertainment permits. The cost of these permits varies and is not included in the venue rental.