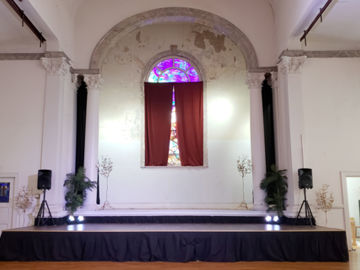 Circus School and Event Space in the ATL
The ballroom is 1,600 sq. ft., has a ceiling height of 25 – 35 ft., and holds a maximum of 320 people. The ballroom is where CSA's in-house circus rehearses, fixed with aerial points, a fully outfitted stage, and a spacious standing / sitting / dancing floor. The space ideal for a great number of things, including (but not limited to) weddings, circus classes, aerial fitness, bachelor and bachelorette parties, variety shows, large occupancy lectures, theatrical rehearsal – the possibilities are unlimited! We'd love to provide a venue for those seeking a creative, vibrant and beautiful experience for their wedding or event. Let us know what you think.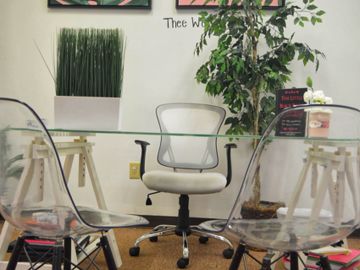 Intimate Open Space By The Battery-ATL
This space dwells in an office park. It is well manicured and one level up from the ground floor. The bottom neighbor is a plastic surgeon so it attracts adults and working professionals from around the area. There is a keycode for entry and plenty of free parking. Space has been used for launch parties, pop up shops, spa parties, makeup classes, workshops, documentary viewings, and chiropractic services.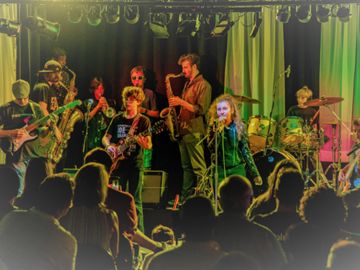 Creative Mixed-Use Space Available For Rent!
Our facility is perfect for band rehearsals, auditions, private lessons, studio space, dance rehearsal, private music events, yoga classes, filming, productions, photoshoots and more. We Offer: -A live room complete with pro lights and sound. -Full table and chair setup for meetings, private events, and conferences. -A green room for artists as well as private rehearsal rooms. -Keypad entry into the facility. You can store things overnight here if needed. -A checkered floor and white walls. -Blackout curtains. -Additional smaller rooms available for additional price. We're conveniently located right off I-85 just minutes from Downtown Atlanta! Come book your next rehearsal or event with us!