Rent Photo Studio venues in Atlanta, GA
Find the right location for your next Photo Studio. Browse a wide variety of local Photo Studio locations throughout Atlanta, GA and book your venue in minutes on Giggster.
How to rent Photo Studio locations in Atlanta, GA
Search locations in Atlanta, GA
Explore our wide variety of unique film and event friendly locations.
Contact hosts
Connect with hosts to set up scouts and lock down the details
Book your venue
Reserve your Photo Studio venue in just a few clicks.
Transformable Studio Space-Unlimited Possibilities
Our space is a creative industrial studio space that can be used for film/video production or photography. We are located in Southwest Atlanta right off of Interstate 20 and just 15 minutes from Downtown Atlanta. At our studio, you are provided with a blank canvas to create and bring your vision to life. We offer a 30 x 30 x18 white cyclorama wall, a 70ft black wall, and open space to host an event, build a set, or create whatever your heart desires. We can provide audio, video, and lighting equipment rentals. We also have tables, chairs, and linen. Please contact us to confirm inventory availability and pricing. Studio Features: - 25 Foot Ceilings - 5000 Sq. Ft. of Studio Space - 30x30x18 White Cyc Wall - (2) Standard Dock Height Doors - Hair and Makeup Station - Wardrobe Room - (2) Restrooms - Kitchen Prep Area - Lobby - Free WiFi - Ample Parking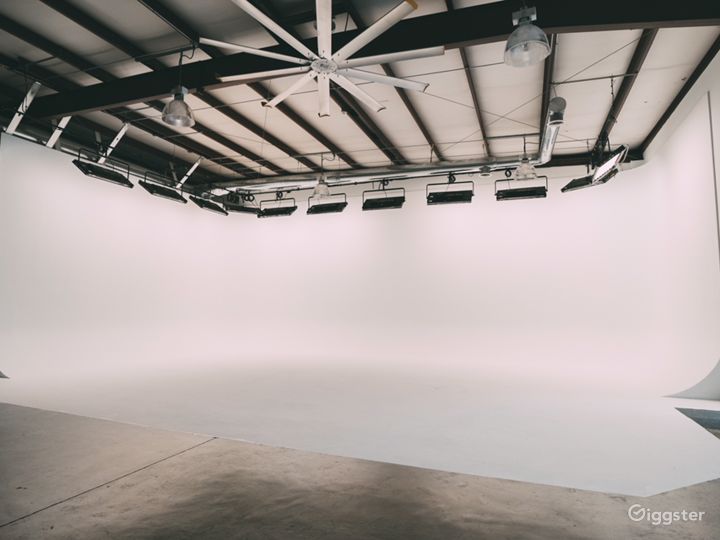 Filming & Photography Studio with Cyc Wall
The property features a 3 wall Cyc which is 27ft x 46ft x 16ft wide and 18ft high to Grid. The wall is fully lit with 11 Kino Flo 8 banks for pre-lit options. The studio also has Green Room, Hair Makeup and Wardrobe room, Kitchen with seating, Loading dock door, Vehicle access inside facility, Restrooms with Shower, Production Seating area. The studio is in a fenced property and is secured with a gate. Comes with HVAC and free WiFi.
Natural Studio
Midtown | Collective is located in the Upper West Midtown section of Atlanta. We are in the Defoor Hills Business Park next to PC&E Camera.