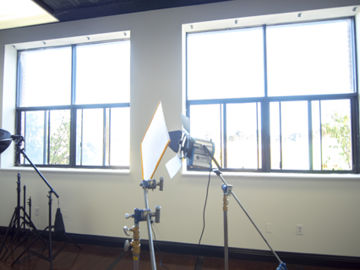 Studio 101 - Classy Studio with Natural Light
Studio 101 offers a comfortable, elegant, and naturally lighted environment perfectly suited for film and photographic shoots. Included in your booking is a continuous lighting package, grip package, as well as 8ft seamless paper of various colors. The gear in the photos is just a quarter of the lights we have available. A complete gear list will be sent upon your initial inquiry. The massive Danish windows provide tons of natural light that explode with gold and pink hues at sunset. The studio itself is luxuriously decorated with marble table-tops and light fixtures. Guests 21 and up can enjoy a drink at our complimentary mini-bar. Down the hallway we have two restrooms. Our pricing, packages, and rules are outlined in a PDF document sent along with the gear list. We look forward to doing business with you.
Local TV Talk Show Studio
This is a privately owned dialysis clinic located in Inglewood, CA. The property also has a TV Talk Show studio. It has stage lighting and sound system. It has about 20 seats for the crowd and a nice stage. It also has a huge parking lot and is conveniently located to the new L.A. RAMS stadium. It is a few minutes east of LAX. The facility also has a talk show studio with sound, lighting and a stage, which can accommodate up to 20-30 people. Please reach out to us for more information.
The Boiler Room - Hidden South LA Location
Welcome to The Boiler Room, where hundreds of happy clients have had their special event, social gala, release party, music video, commercial shoot, meeting, rehearsal, art gallery, and more, with great success. The Boiler Room offers a massive main area which is perfect for designing live stages or sets, or for leaving nice and open to comfortably host up to 150 guests and activities. Where does The Boiler Room get its name? In one of the many rooms there is an early 20th century boiler room, in which we have converted into a motion picture prop room, known fittingly as "The Boiler Prop Room". Each item in our prop room has been used in countless music videos, commercials, and features across the greater Los Angeles. Besides the main stage area, there is also a lounge area with a hi-fi vinyl soundsystem, make-up & wardrobe room, prop room, kitchen, and of course a restroom. Tables and chairs are complimentary with each booking. We have dozens of upgrades to make your event/shoot more convenient and attractive for your guests, such as: a pool table, a 10' projector and screen, ARRI and tungsten lighting packages, props and set decoration, and more. The Boiler Room is available by half days or full days, beginning at $600 for a half day, and $900 for a full day. When you make an inquiry, please leave an email to which one of representatives can send a pdf attachment that explains our pricing, packages, and rules, and outlines everything you need to know prior to booking. Thank you, we look forward to working with you.