Downtown Windowed Meeting Space
Open, bright meeting space with windowed walls, projector, and automatic shades. Chairs, tables, and adjacent kitchenette (refrigerator, freezer, microwave, toaster oven) included. Integrated speakers + audio/visual jacks available by request (also included). 29' x 29' (841 sq. ft.) Comfortably seats 30 at tables, 50 auditorium style, 70 standing room. Decor includes marquees of past show posters, plus plaques of current and former board presidents. Manager On Duty required for certain events, depending on hours and scale (send message to inquire).
Modern East Austin Warehouse with Vintage Vibes
Housed in a discreet East Austin warehouse off of the popular Springdale Road, our space is a two-story, 5,600 square foot venue that hosts both small and large events. We are within walking distance of artist studios, breweries, restaurants, rock climbing and more! We can host the following type of events and many more: - social gatherings and events - off-site meetings - wedding related events - bridal showers, wedding showers and receptions - production shoots - photo, commercial, film and television (TV) - creative and corporate workshops - dinner, cocktail, corporate and holiday parties - meet-ups/networking - seminars and training sessions - panels - art exhibits - launch parties - concerts and DJ sets - yoga classes - SXSW - East Austin Studio Tour Please let us know your specific furniture and AV requirements, as there may be an additional fee for large scale events. Also, vintage cars can remain in the space, be removed or put on display in the parking lot. We offer street level and garage door access for easy loading. We have our own parking lot for up to 100 cars. There's also ample, free street parking. It is equipped with a fully wired stage for live music, a 24' projector and hi-definition surround sound theater, a 1,100 square foot lounge/game room with a full bar. The lounge is available to rent separately here: We are within walking distance of artist studios, breweries, restaurants, rock climbing and more! We offer multiple gathering spaces that can be rented separately or on their own. - 1,100 SF upstairs lounge for small gatherings and meetings, includes, tables, chairs, bar, TVs, pool table and vintage games. Fits up to 75 people. - 4,500 SF downstairs open space that can comfortably fit up to 325 people for large events or productions - Parking lot can be used for outdoor events and food trucks This pricing is valid for off-peak events. Please inquire about SXSW pricing.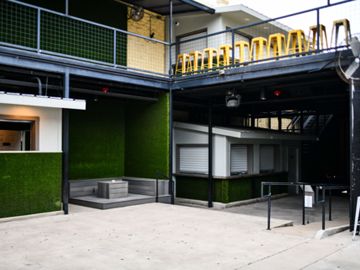 Historic 6th Street Live Music Venue
The Venue is located on historic 6th street in downtown Austin has a clean non-descriptive look with the following amenities to allow for any type of event from conferences, fashion shows and last but not least, Live Music! Events require a bar minimum. Custom rates are available for multi-day production/event. Virtual tour: http://www.omniception.com/vt/p20181115TheVenue/p20181115TheVenue.html Full-size stage with sound and dedicated sound booth to meet the need for any band. High-End Systems shapeshifter lighting with 42 moving heads that impressively cover the entire stage and dance floor. Eight screens including a 12 ft projector all looped together for any visual presentation needs. Dual entry points can easily separate VIP and GA areas. Three separate full functioning bars. Restrooms on both levels. Multiple VIP areas. Easy access for Food truck inside the venue. Greenroom equipped with a kitchenette and full bathroom with shower. (1000 SQFT)