How to Resize a Layer in Photoshop
Alright, so you want to resize a layer in Photoshop? That's very easy to do, thanks to the Free Transform tool.
Now, in the spirit of keeping this post short and sweet, I won't go over the full retouch steps for this final image, but merely show how to easily resize, move and rotate the smoke layers.
Before / After:
---
The Simplest Way to Resize a Layer in Photoshop
Here's how to go about resizing a layer:
Select the layer you want to resize.
Hit

Cmd+T

Ctrl+T

to activate the Free Transform function. Alternatively, you can reach for it in the menu by going to Edit > Free Transform.
Now just grab one of the handles and click + drag to resize the layer.
When you're happy with the new layer size, hit enter to confirm the transformation.
If you're not happy with the resize and want to cancel out of the Free Transform tool without making any changes, just hit the

Escape

key.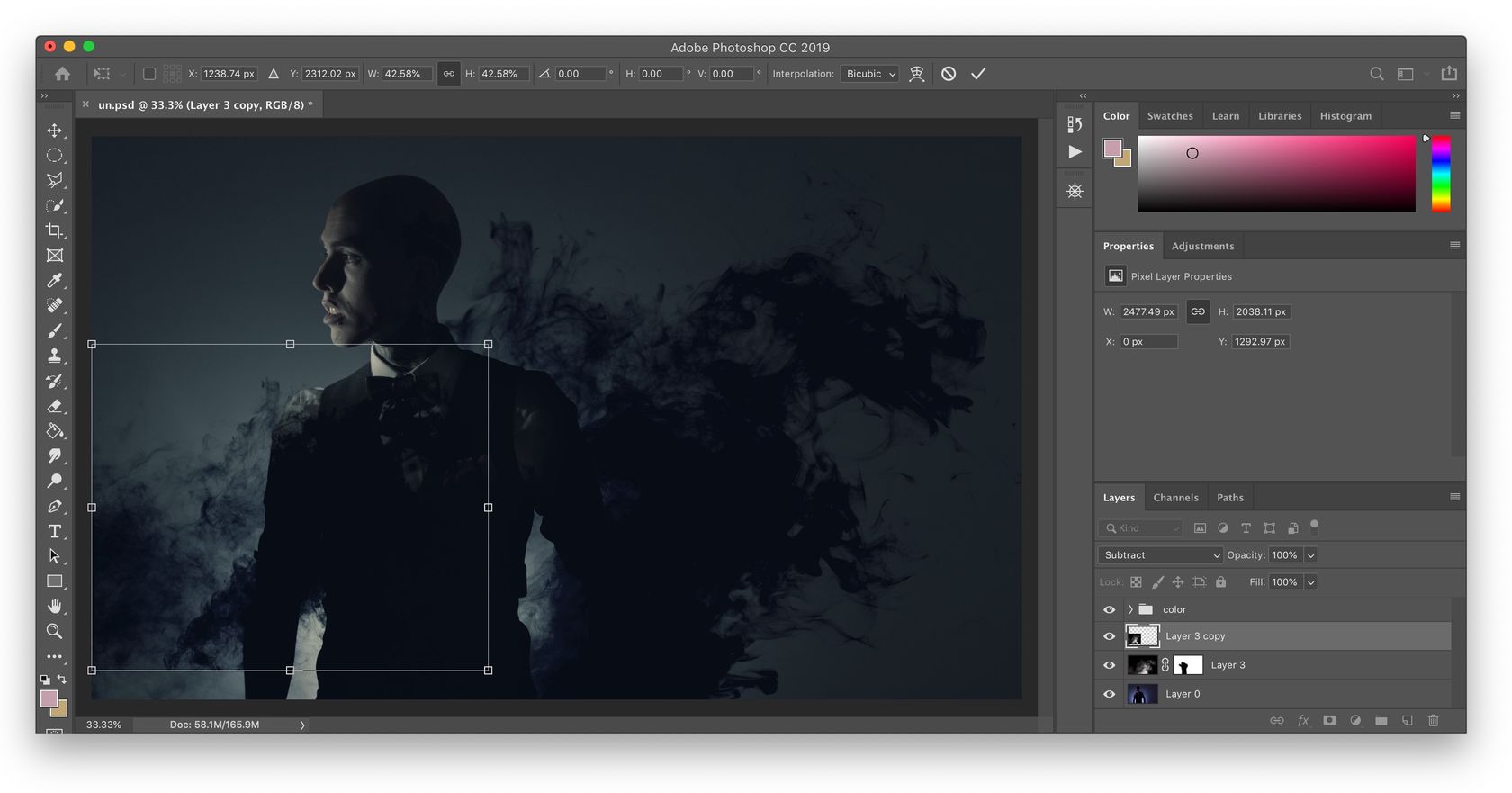 As a bonus, the free transform tool also allows you to move or rotate a layer. To rotate, just put your mouse pointer on the outside of the free transform box and you'll see the mouse cursor will change to a rotate icon.
Tip: proportional resize
It's often important to resize a layer proportionally, meaning it changes in width and length keeping the same ratio. Otherwise, your layer can appear distorted. To do that, just resize using one of the corner handles of the Free Transform tool.
Since Photoshop CC 2019, you shouldn't hold the shift key anymore to resize proportionally, as holding the shift key will instead allow to resize non-proportionally. This is a gotcha that might get you a few times if you're used to holding the shift key, and it might need a little bit of getting used to. Once you get used to it though, it should save you time, because more often than not you'll want to resize proportionally when using one of the corner handles.
Tip: Resize from the center
Normally when you resize the layer will follow the corner handle where you started the resize from, but if you hold the Option Alt key as you resize, the resize will be done from the center of the layer instead. This can be a good trick to avoid having to resize and then move the layer back to where it was initially.
A Better Way Using Smart Objects
Ok, so now you know how to resize a layer in Photoshop, but there's something extra that you should probably do to improve your workflow: convert the layer to a Smart Object prior to resizing.
You see, if you resize a layer down, and then want to resize it back up later, you're normally out of luck and will completely ruin the quality of the pixels in the layer. If you transform the layer to a smart object first though, you can resize down and up an infinite amount of time without losing quality. Of course, keep in mind that quality loss will always happen if you resize a layer to be larger than its original size. But at least with a smart object you always preserve the original layer's inner pixel quality.
To convert a layer to a smart object, just right-click on the layer, and click on Convert to Smart Object. Now go ahead and resize the layer using the Free Transform tool (Cmd+T Ctrl+T) as you normally would. Now you can resize to your hearts content without ever losing the inner layer's original quality.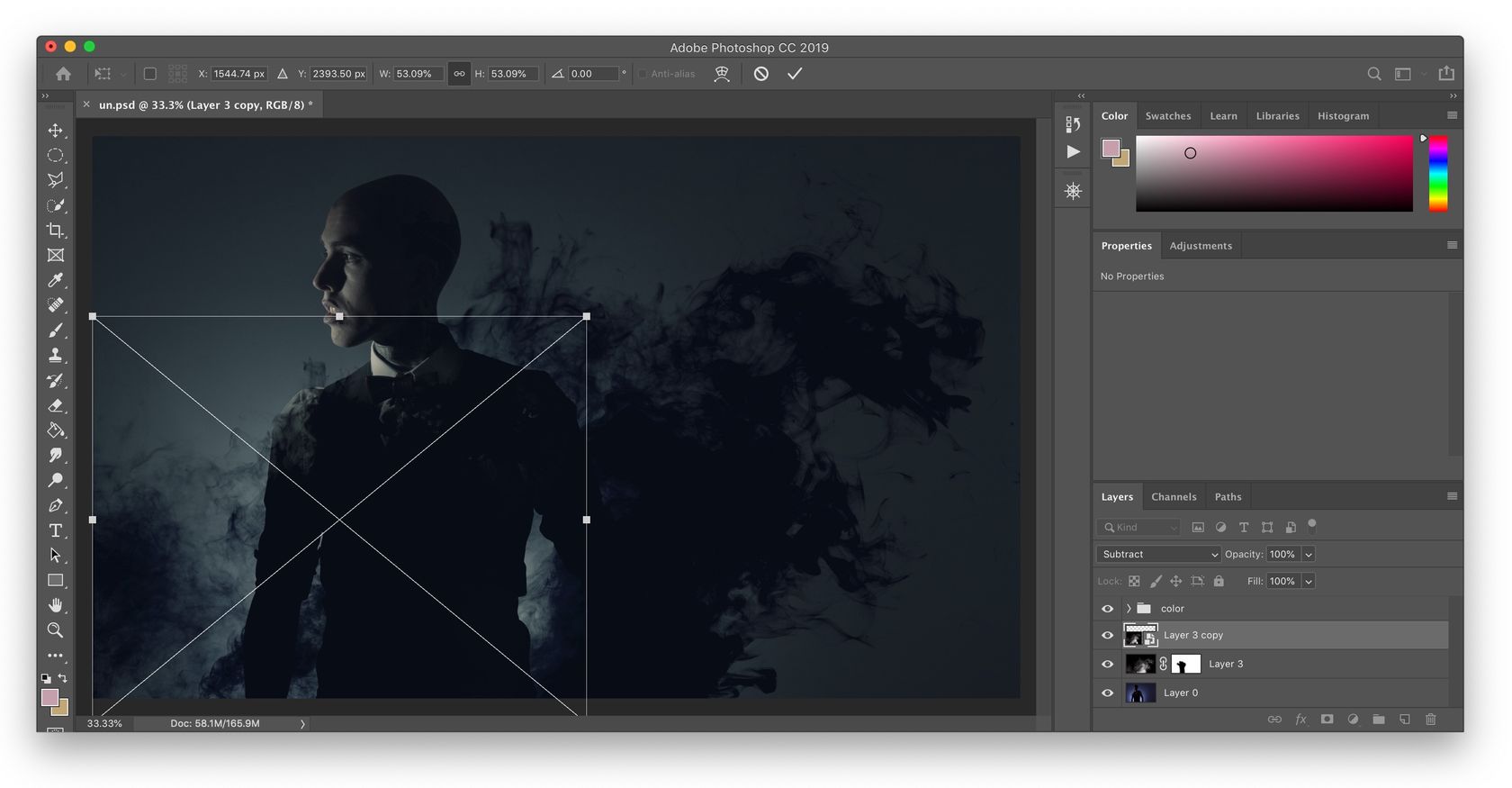 Bonus: Other Layer Transformations (distort, skew, wrap)
The free transform tool is the main tool to resize or rotate a layer, but Photoshop offers many more ways to transform a layer. Just go to the Edit > Transform menu and you'll see that there's a transform tool to wrap, scale, skew, distort,…. These tools work in a similar way to the Free Transform tool, but they transform the pixels from the layer in their own particular way. Go ahead and try them out to get a feel for how they affect the layer!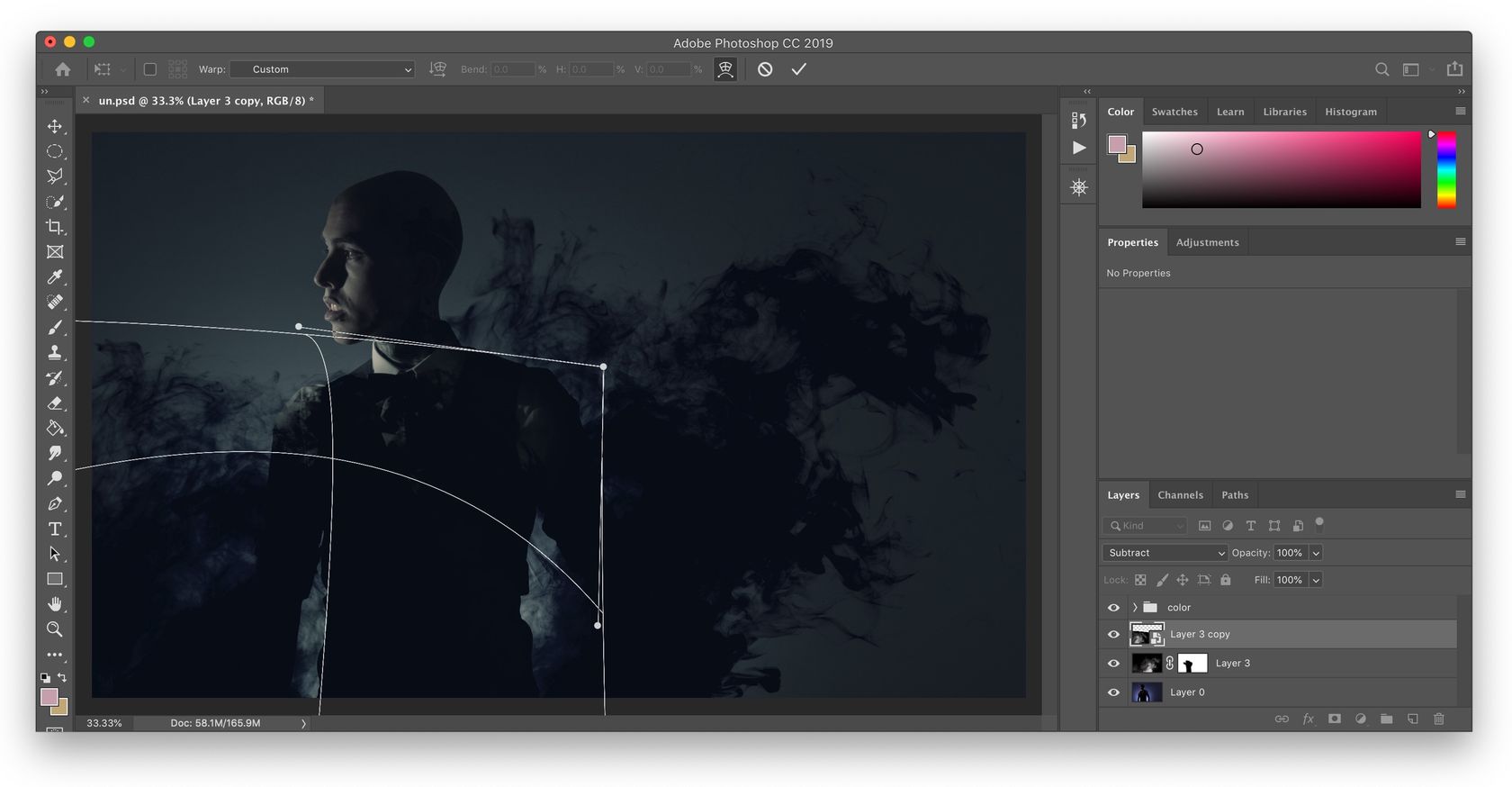 🌄 Image info:
Camera

: Nikon D800

Focal length

: 40mm

Shutter speed

: 1/160s

Aperture

: f/7.1

ISO

: 200