10 Mid-Century Homes for Film and Photo in New York
Mid-century homes are known for their vibrant interiors and plush exteriors. With plenty of natural, earthy, and wooden elements, usually featuring an open floor plan that really helps when you're using bigger cameras than the standard DSLR, these homes are great venues to rent for film and photo projects in New York. There are plenty of homely features that look very aesthetic on camera, and depending on what you're looking to film or photograph, you're bound to find picture perfect frames at these houses. That said, here's our pick for the best mid-century homes for filming and photography in New York, and all these homes can be rented here on Giggster.
---
1) Contemporary Mid-Century Home in South Bronx
Originally built in 1901, this property was recently remodeled to fit a more modern character while retaining its rustic original character. This comes through very clearly with the exposed bricks. The interiors are cosy and bright, with the sun coming in through the tall and short windows. All the furniture is carefully selected to match the aesthetics and the use of different textures and colors really looks spectacular on camera. Other features include a fireplace and a patio space on each floor. All in all, a charming, rustic mid-century modern home perfect for a small-medium sized crew.
2) Scandinavian Mid-Century Home at the Waterfront in Rye
An idyllic once acre property with a lavish home, this mid-century home will transport you to a different space. Situated on a tree filled park with incredible vistas of the waterfront, you're sure to enjoy some special frames with the camera. Being treated specially for photo and film, this place has all the nuanced characteristics that make it a special set. There's even a fully wood clad studio available on site which is a great space for your projects.
---
3) Jasper Johns' Mid-Century Studio & House in Stony Point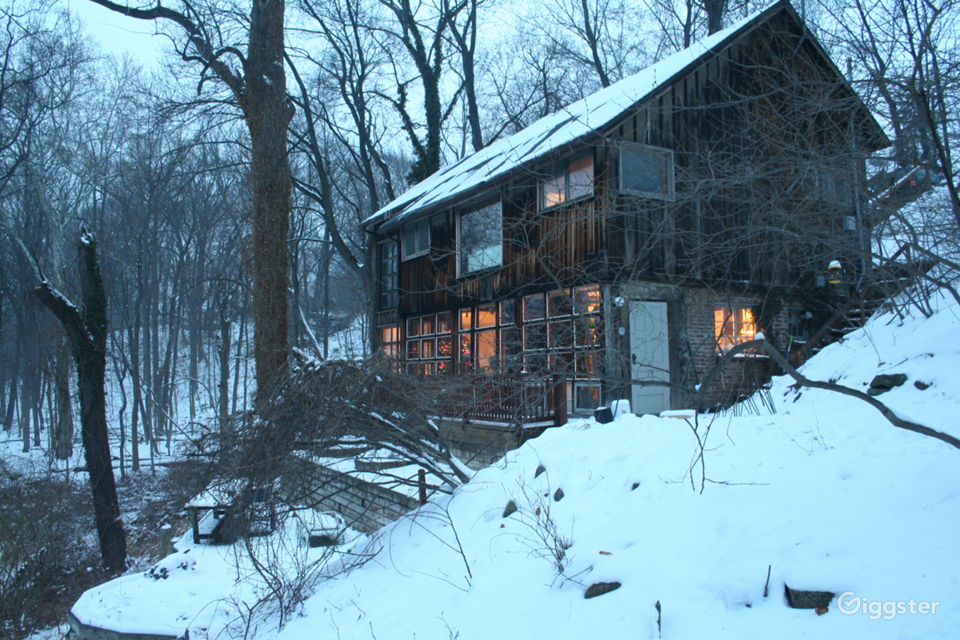 The studio and home of renowned painter Jasper Johns, this is the ultimate artists home. The second floor features a double-height studio which lets in volumes of natural light using a skylight, unique floor-to-ceiling roll up windows and, non-artsy but still beautiful, windows. Bound by an old stone wall and a meandering stream this mid-century artist studio and home looks surreal on any footage, film or photo.
---
4) Mid-Century Waterfront Home near Broad Channel
A stylish, well-lit waterfront home with a charming deck overlooking the waters, this chic, simple home makes for a gorgeous on camera backdrop. The home features mid-century modern décor against clean, white walls; and the glass French doors provide incredible vistas of the bay below. The back deck of the home stretches into the waterfront and is well kept to provide an intimate seating area that looks absolutely magical on camera, and in real life.
---
5) Authentic Mid-Century Modern Home in Pleasantville
A mid-century ranch style home on wooded grounds, this property has a lot going on that your camera and you will absolutely love. Glass walls go around most of the home, lighting the space during the daylight hours making it a perfect stage for the camera. Inside, the home features multi-colored walls, beautiful dark wood themed furniture, multiple floor textures, and tons more. A concrete driveway leads up to the home allowing you to really capture the movement of cars in a controlled way as well.
---
6) 2 Bedroom Mid-Century Apartment in Astoria
A comfortable mid-century home with a touch of eclectic and designer décor, this Bohemian apartment is quite the visual treat. A very modest, homely feel radiates from the condo which is caught on camera. There's an equipped chef's kitchen, multiple bedrooms, a dining room, and a living room to choose from on your shoot. Dark walls and floors, without too much natural light make it a desirable location if you're looking for controlled lighting.
---
7) Historic Mid-Century Zen House in Stamford
Once owned by Guzton Borglum, the master sculptor who designed and carved Mount Rushmore, there's a lot of history in this home. A ranch-style mid-century mansion with Zen vibes, its clear that a lot of thought put into its planning and looks. Eye-catching stone walls help add extra décor elements to an already stunning looking manicured yard. The property also has a 60-foot lap swimming pool, a mid-century modern pool house with a great room, a pond, and a lot of Zen areas spread over its 3.5 acres.
---
8) Mid-Century Suburban Ranch Home in Montclair
A one-of-a-kind mid-century modern suburban ranch home painted in barn colors with a section of exposed brick walls, this listing has a lot of on-screen character and presence. The home is fully decorated with relevant period props from the 50s and 60s, giving it an authentic camera feel and presence. The listing also has a wood paneled lounge with a bar, a large living room with vaulted ceilings, and swathes of natural light, all of which come together to give it a unique, enchanting vibe.
---
9) Sunny Mid Century Modern Loft
A two floored loft house that looks like as though it was designed for the camera, this sunny mid-century modern loft is perfect for your film and photo projects. The home is spacious and cozy, with white or light wood furniture and fixtures giving it a larger than it is look. There's even a fully stocked chefs kitchen at this listing making it perfect for any kitchen themed film or photoshoot as well.
---
10) Mid-Century Colonial Residence in New City
A contemporary mid-century colonial home, this property is quite the looker. An exquisite location where the house stands out as the only thing in sight, you're going to have a great time working on your projects here. With a lush lawn up front and a forestline view from the back deck, there's no shortage of natural elements to spruce up the exteriors. Inside, the colonial residence, is moderately decorated with plain furniture and walls which allows you to visually treat the location how you see fit.
---
Mid-century homes are perfect for all kinds of film and photo production needs. Often varied in types and styles, there's a lot you can hope to accomplish while filming here. If you're interested in any of these locations for your next shoot, or want to know more about them, see more pictures perhaps, then please follow the links provided. However, in case you'd like to see more options, we request you to please follow this link to view our catalog of film and photo rentals available in New York City.
Best of luck on your project!