10 Ideal Mid-Century Homes for Filming and Photography in Los Angeles
Friendly and familiar, mid-century homes are perfect for staging stylish and retro-inspired photo and film projects. The interiors are charming and quaint - perfect for a wide range of scenes and styles and we here at Giggster have tons of such listings available for photo and film rentals in Los Angeles. So if you're looking for the perfect mid-century home your project in LA, here's our curated list of places that should be on the top of your list.
---
1) Charming Mid-Century Home near Canoga Park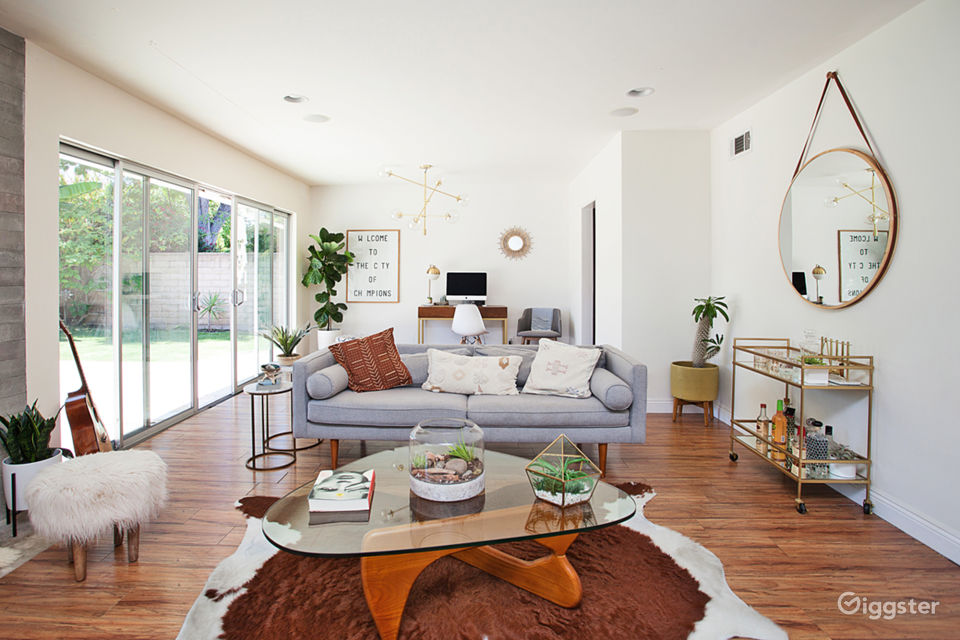 Spacious, beautifully-lit and stocked with selected furniture and artworks, this charming mid-century home is perfect for your filming projects. The interior installations are carefully picked to add to the on-screen appeal. An artist's home through-and-through, there's an air of calmness and freshness to the space which definitely has its own impact on the projects shot here.
2) Private Mid-Century Mansion near Hollywood
Once owned by famed singer, Axl Rose, this listing was designed for two celebrity priorities - looking great and maintaining privacy. Spread over an acre, there are phenomenal views wherever your camera points including sightings of the Hollywood sign, Griffith Park and the city of Los Angeles below. With exotic features including living room fireplaces, a pool under palms in a landscaped lawn, and more; this mid-century modern mansion is as luxurious as it gets.
---
3) Light & Bright Mid-Century House near Sherman Oaks
A mid-century home updated to reflect the modern day, this mid-century house is a treat to film at. With plenty of glass walls, there's an abundance of natural light coming in every time the sun is up. Artfully decorated, the interior features an open floor plan with ample space for movement and gear. There is also a landscaped backyard with a pool and paved seating area, adding to the overall picturesque nature of the property.
---
4) Mid-Century Home with Spectacular City Views near Silver Lake
A property which looks amazing on camera, this mid-century house has lots of wood and custom fixtures. But where this property truly shines is in the outdoor patio area. Cozy and compact, the views of the LA skyline are simply jaw dropping. The home can also be remote controlled, allowing you much more control on the lights and aesthetics you're going for.
---
5) Los Feliz Mid-Century home with Landscaped Ext.
An alluring home in the quiet neighborhood of Los Feliz, this property is eye-catching. Fenced in on all sides to add to the privacy, there's plenty of frame options for you here. An open floor plan with tasteful decorations and artworks make up the interiors, and outside, a private landscaped yard with an elegant seating area.
---
6) Light Filled Mid-Century Charmer near The Japanese Garden
An actual charmer, the mid-century home is rooted in the past but nods at the modern world with accents here and there. Decorated with a Bohemian finish, the space is open and elegant with indoor plants in every corner. White walls and light wood floors combine with large windows to lit up the space gorgeously for your photo and film projects.
---
7) Mid-Century Ranch Home with Rec Room and Pool in Valley Glen
Built in 1954, this mid-century ranch home in Valley Glen is very spacious and has tons of natural light coming in through windows located all over the home. The home also features a large breezeway with french doors and a fully-fitted rec room with a 60-inch TV, ping pong and pool tables, a bar and a theatre-type seating. There's even a renovated pool and hot tub in the large backyard. There's even one wood-paneled 70s style bedroom that looks spectacular on camera.
---
8) Pop Art Mid-Century Home near Woodland Hills
A spacious open concept mid-century modern home with a white floor and a white-on-grey modern industrial style kitchen with large island and stainless steel appliances; this space has a lot happening which add to its camera presence. The owner of the space is an avid collector of bright minimal pieces which draw attention every time you turn your camera lens. With plenty of light making its way indoors, there's a lot of cool angles and frames for you to work with.
---
9) European Mid-Century House with Statues in Santa Clarita
An opulent property that looks like it belongs on the other side of the Atlantic, this European Mid-Century home is simply grand. The grandeur really resonates all over — with the interiors being richly decorated with carpets, ornate fixtures and wood-crafted side tables and showpieces. The lawn has an inviting seating area which when lined right, let's you capture the statues in background, increasing the aesthetics of your frame.
---
10) 1950s Mid-Century Home off Golden State Freeway
A 1950's mid-century house where the owner is conscious about the landscaping and furniture, and has set the entire space to fit the 1950's style. Bright and open, there plenty of space to move around and plenty of angles you can cover for your scene. Tasteful decor really accentuates this place and lends itself perfectly for camera purposes. Whether its a film or a photo, this lot is definitely worth considering with its themed setup.
---
Mid-century homes are very common home type across the globe, second only to apartments/condos. Brightly-lit with plenty of open spaces and open floor plans, there's always space to move a rig around. And if you're interested in any of these locations for your next shoot, or want to know more about them, see more pictures perhaps, then please follow the links provided in the description. In case you'd like to see more listings, please click this link to view our exhaustive list of film and photo rentals available in Los Angeles.