10 Amazing Yoga Studio Venues for Rent in Los Angeles
Yoga studios and practice spaces need to be more than your typical workshop or dance studio. There needs to be an atmosphere of Zen and calm that radiates through the venue. An open floor plan, natural lighting and fresh air really help boost the quality of your yoga experience as well. All these are among the bare minimum requirements for a space to qualify as a workable yoga studio. That said, we've gone through our catalogue of amazing yoga studios you can rent in LA, and handpicked some of the best for you in this curated list of 10 amazing yoga studio venues for rent in Los Angeles.
---
10) Indoor Yoga Studio
Located within the premises of the JEM Community Center in Beverly Hills, this hot yoga studio is one the best yoga studio venue rentals in LA. The light color tones of the floor and walls open up the space and the entire room is well lit using a combination of ceiling lights and natural lighting. A venue that looks great on camera, this listing is great if you've a photo op lined up.
Available on Giggster, starting at $650/hr.
---
9) Dark Wood Studio in San Pedro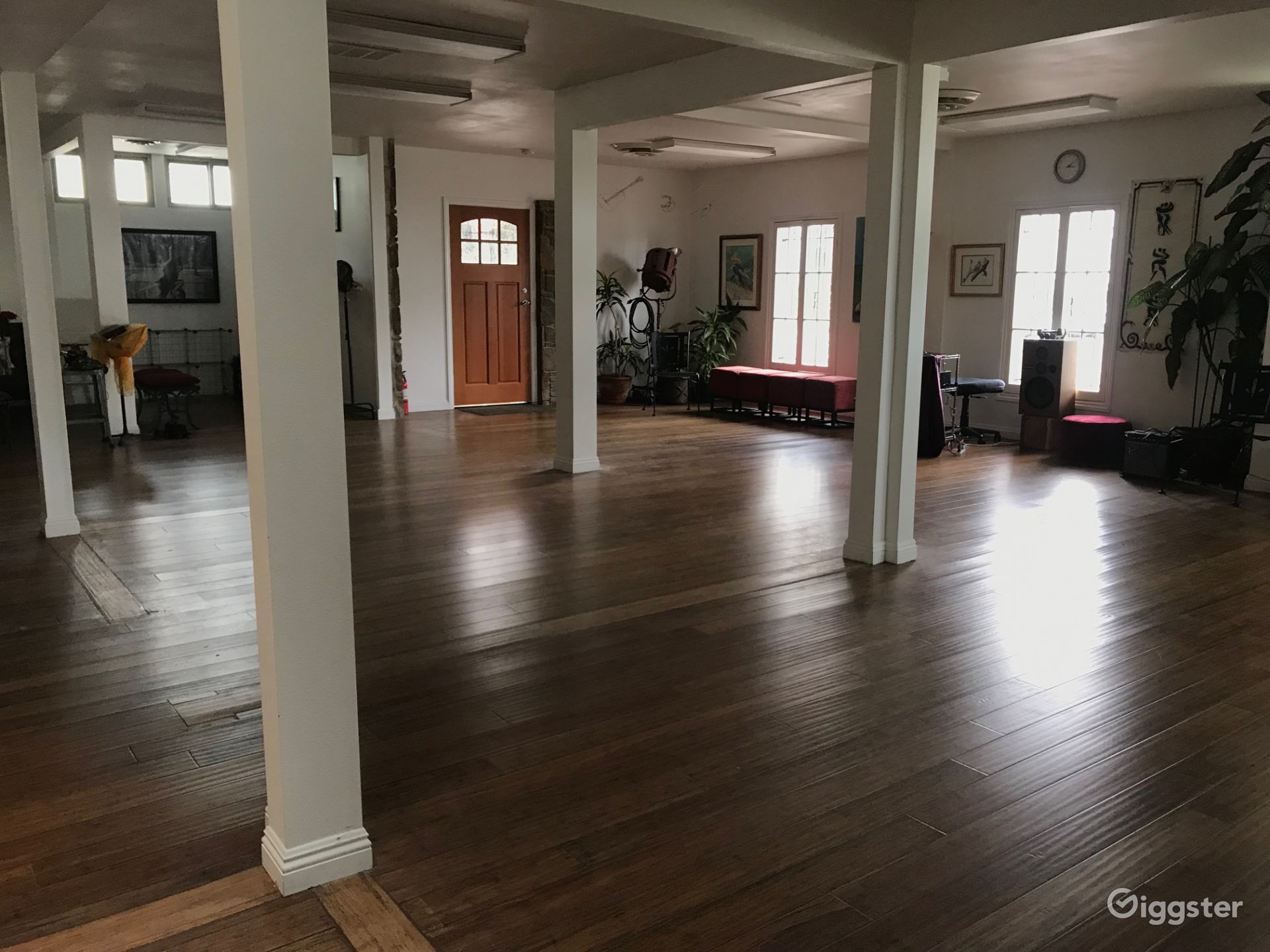 A small, intimate space with a dark wood floor in San Pedro, this listing has a relaxing energy to it. The property has a dance studio style wall mirror and has high windows which let in light during the daylight hours. The white walls are tastefully decorated with memorabilia and artwork which adds to the positive vibe of the venue.
Available on Giggster, starting at $80/hr.
---
8) Beautiful Studio in Santa Monica
Designed as a dance studio, this beautiful space in Santa Monica has a very Zen vibe to it both inside and outside. Although the outdoors make for a great hangout spot, the interiors are just what you'd need from a yoga studio. An entire mirrored wall, wooden floors and windows to let in natural light, this listing is great for rentals during the day or night.
Available on Giggster, starting at $120/hr.
---
7) Yoga and Break Room in Beverly Hills
A designated yoga and break room in Beverly Hills, this property has beautiful floors and large windows which allow plenty of natural light to seep into the place. The East Asian decor with statues and fans add to the energy. There's also private parking available for 30 cars which is just about how many people you can accommodate here.
Available on Giggster, starting at $300/hr.
---
6) Peaceful, Well-Lit Yoga Studio
Another dedicated yoga studio and mediation space, this listing has a welcoming yoga room with high ceilings, skylights and large front windows that allows for great natural light. The bamboo floors, floor to ceiling mirrors and charming red brick back wall make this listing an ideal venue for hosting any yoga class. The rental of the space is pretty light on the wallet as well!
Available on Giggster, starting at $75/hr.
---
5) Beautiful Yoga Studio in Glendora
An intimate, quaint yoga studio in Glendora, this peaceful property has enough space for 18 people to practice yoga. The gorgeous yoga studio has hardwood floors and large windows which let in plenty of natural light for your session. Also very friendly on the budget, you'll be hard pressed to find better, more intimate yoga studio rental in LA at the same cost as this one.
Available on Giggster, starting at $41/hr.
---
4) Industrial Studio Loft with Natural Light
An industrial loft with huge windows to let in all the natural light, this studio offers a unique pricing structure depending on the people involved. A great space for yoga for small groups, this listing looks really pretty on camera as well. If there is a photo op involved, then this space offers a whole lot in terms of equipment and props as well. To know more about these, or to see more pictures of the place, please visit the link below.
Available on Giggster, starting at $45/hr.
---
3) Whitewalled Yoga Studio
Located on the sixth floor in the fashion district, this 6,000 sq. ft. studio has an open floor plan, high ceilings, polished concrete floors and plenty of natural light coming in from all sides. The property is great if you're organizing a large yoga workshop or event. There's also a speaker PA system and a stage area that can be setup at an additional fee making this the perfect workshop space.
Available on Giggster, starting at $125/hr.
---
2) Private Exotic Yoga Room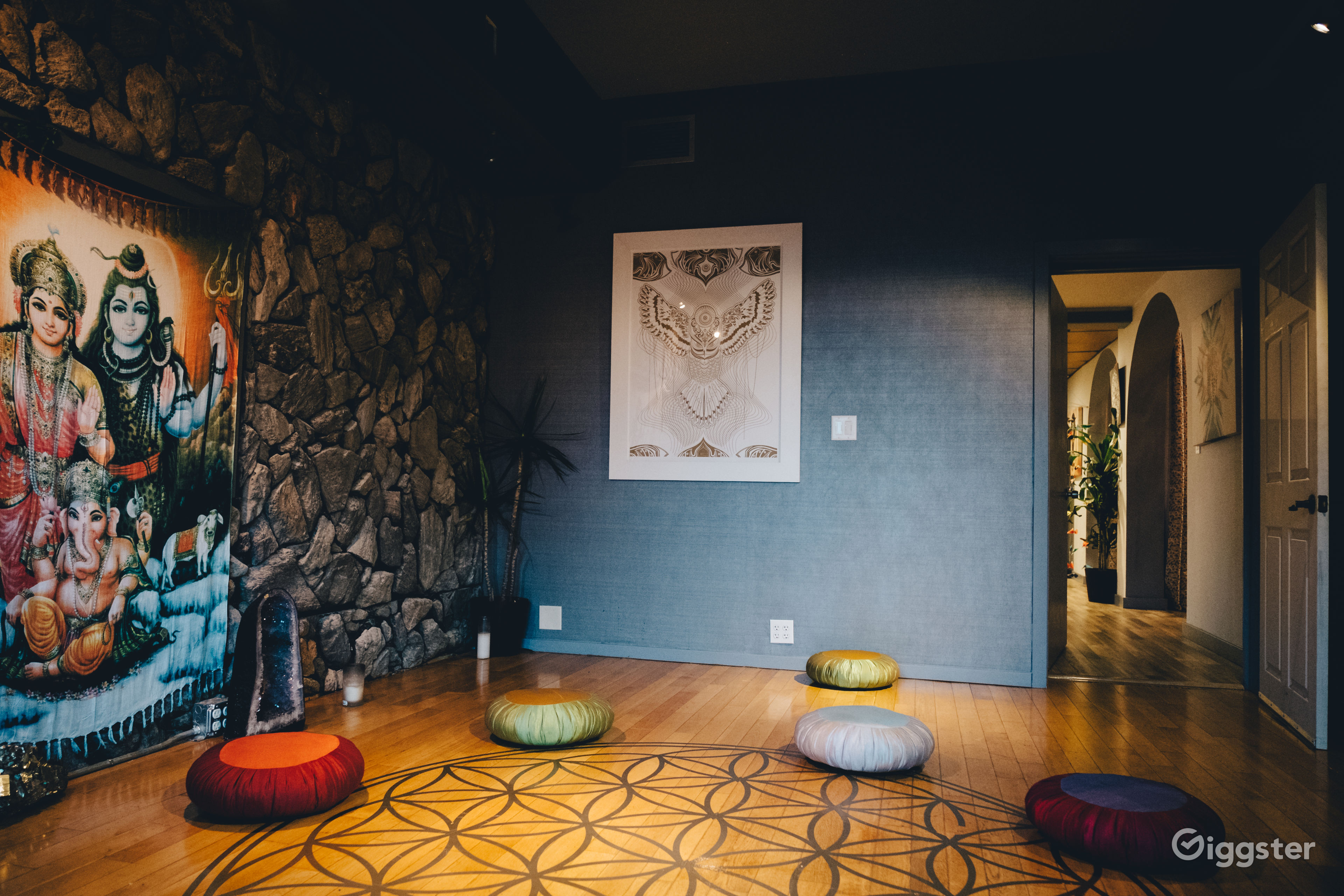 If you're looking to organize a yoga class on camera, then let us be the first to say, this is one of the most amazing yoga studio venues for rent in LA. Tastefully decorated with intricate designs on the floor and a stone wall, the ambiance and energy of the space is highly conducive for yoga. A bit steep on the pocket and limited by space, there's a lot more pros than cons to this listing. To know more about the listing, or see more pictures, please click the link below.
Available on Giggster, starting at $1430/hr.
---
1) Industrial Dance Studio
A dance studio in DTLA's South Park District, this dance studio has four different rooms you can rent, each of a different size. A couple of them can even be combined to add to the floor space. The studio is equipped with a state-of-the art dance floor, full-length mirrors and top quality sound systems which boost the comfort and practicality of the location.
Available on Giggster, starting at $83/hr.
---
These yoga studio venues can help you conduct classes for all kinds of batch sizes and across multiple time slots. From industrial spaces to studio lofts, we've tried to capture all kinds of looks and ambiences to help you set up for the perfect yoga experience. But still, if you would like to see more yoga studios venues, then please click this link to go through our entire collection of yoga studio venues available for rent in LA.