10 Most Amazing Hotels in Los Angeles to Rent for Filming
Who doesn't love a good vacation? The folks at Giggster definitely do, and even films and photoshoots repeatedly explore "holiday and vacation" themes. What's common to them all, characters leave home, and need a place to stay. Well we've gone through our list of photo and film rentals in Los Angeles, and handpicked some of the best hotels and motels available for rent in LA. So whether you're looking for the next five-star destination or back-alley seedy motel for your film project, here is a list comprised of our ten favorite hotels and motels around Los Angeles that could suit your production needs.
---
1) Modern Hotel in Hollywood
This modern elegant hotel in Hollywood is the first on our list! It absolutely charms us with its contemporary, modern architecture. We love the expansive space of this location as well as its minimal furniture and monochromatic palette with a splash of colors making its presence felt in parts. We feel this may be suited for your next big corporate event, photoshoot or music video.
---
2) Luxury Hotel with French Garden and Helipad in Hollywood
Want to show your protagonist living the good life? In that case, this hotel is the one you pick! Lavish bedrooms with a view of Hollywood hills and dramatic decor gives a feel of an urban resort. Its cozy French garden is our absolute favourite nook in the property – besides the huge helipad, of course!
---
3) Charming Mountain Inn in Idyllwild-Pine Cove
Nestled in the hills of Idyllwild-Pine Cove, this mountain inn surrounded by huge Cedar, Pine and Oaks, is one of our favourites for its mere versatility! Can you imagine all the different types of scenes that could be shot here? From a spooky horror flick to a psycho thriller, a romantic getaway to a comedy about a boys' weekend gone wrong – this 1940's rustic site is brilliance waiting to happen. The best part is that the entire property is available for rent!
---
4) The Quintessential Seedy Motel near San Fernando
A list about hotels would never be complete without a seedy motel making its way into it. If Schitt's Creek inspired you to write about your own Rose Family, look no further than this address right here. But it just doesn't end there! From police stakeouts, to hiding criminals and lovers on the run - we all know that they would all find a bed to sleep in this motel near San Fernando that is perfect for filming.
---
5) Furnished Motel in Gardena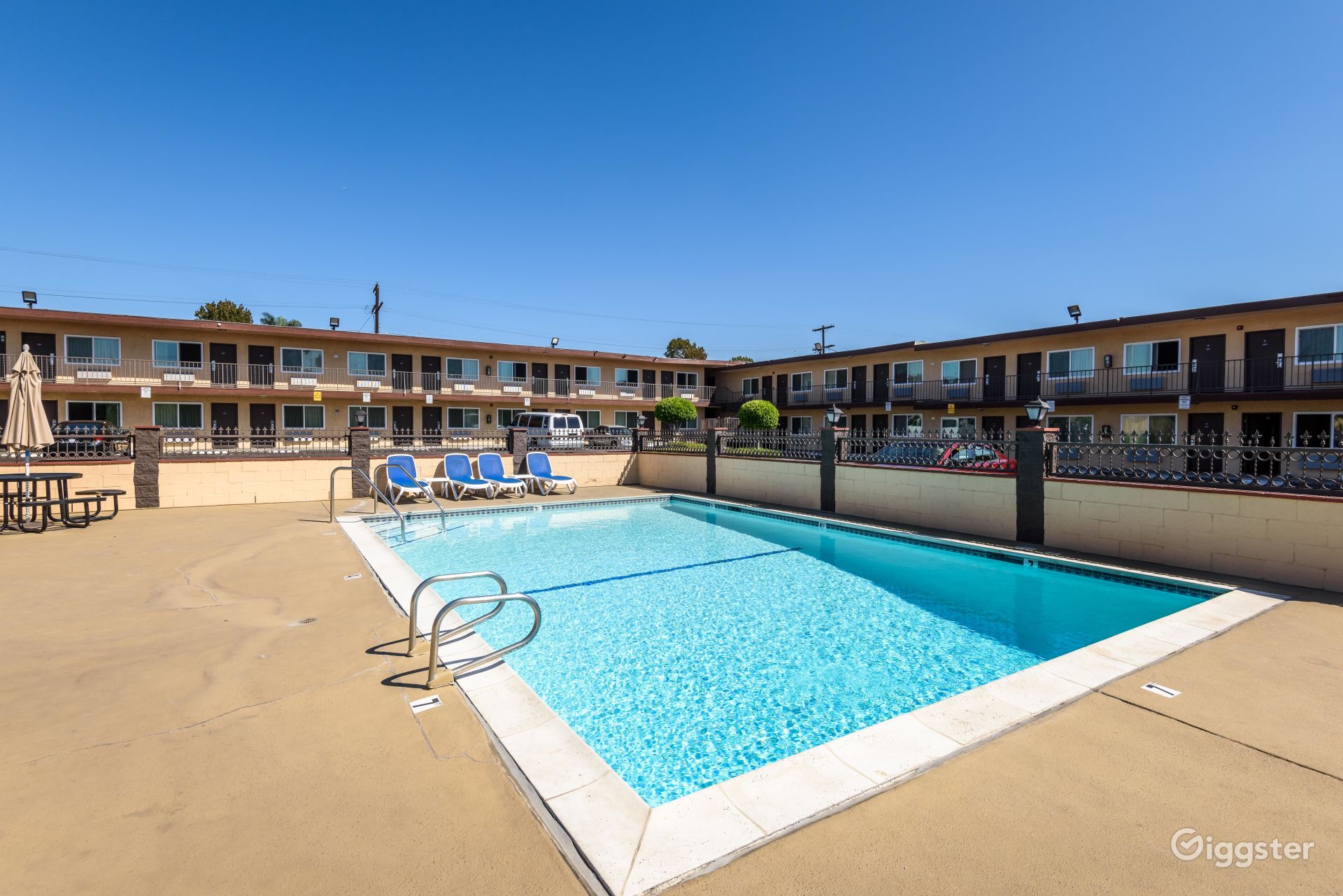 If the Roses did not like the last motel, we are sure that they would fancy this one. This furnished motel in Garden has a well-maintained pool and garden, with ample parking space for your crew and equipment vehicles. Its rooms are decorated tastefully, albeit with the bare necessities. We especially love this location for their experience of working with several film and TV crews thus making this one of the easiest venues to partner with!
---
6) Greenhouse Hotel near Wilshire Center
A gorgeous hotel space with greenery all over, this hotel cleverly merges nature with man-made for a spectacular visual. There's even a greenhouse catering and eating area which adds to the spectacle, alongside a pool and a gorgeous outdoor patio section. There are plenty of visual angles, some of which offer tons of privacy, and on an overcast day, you really wouldn't need any equipment but your camera.
---
7) Paradise Alley in DTLA
We love this six-storey Beaux-Arts style hotel building for its vintage look! The ground floor features large picture windows with art-glass transoms above the lobby windows. The second floor exterior is made of scored terracotta designed to mimic blocks of stone. The building still retains a lot of its original elements that adds feeling of authenticity to the footage captured here. The hotel also offers plenty of spaces to shoot including the lobby, hotel rooms, rooftop and diner you can make use of on your shoot here.
---
8) 1920's Era Hotel in DTLA
The home of Hollywood glamour, this historic Los Angeles hotel has been the choice of celebrities, presidents and dignitaries, besides being the backdrop for many movies and TV shows. Designated as a historic-cultural landmark, the interior of this beloved 1923 hotel features frescos and murals, carved marble fountains and columns, crystal chandeliers, and embroidered tapestries. Grand ceilings and paintings decorate the lavish ballroom and lobby. The ornate indoor pool is a mix of Roman bath and Gilded Age ocean liner. Rich blues, greens and golds fill the tile mosaics, with wooden deck chairs surrounding the pool. There's also an adjacent steam room, for an added Roman touch. Overall, this property offers over 70,000 sq. ft. of flexible shooting space.
---
9) Westwood Dormitory by UCLA
From friendship pacts to crazy games of beer pong - if your movie is about the nostalgia that comes with college, this venue will take you right back to your days at the dorms! Tastefully decorated with custom-made bunk beds and wooden table tops, the Westwood podshare is a steal at an extremely reasonable rate. It has over 9,000 square feet of space spread over 2 floors with 9 ft ceilings of hallways, rooms, restrooms, showers, and a common room.
---
10) Historic Victorian Castle in Pasadena
Our absolute favorite on this list is this 117 year-old Victorian castle. Now faithfully restored in every detail, it has extensive grounds, including a lily pond and arched walkways and verandas with magnificent trees and expansive lawns. The interior spaces - all available to use - are furnished with original Victorian antiques and plush velvet drapes which evoke the Golden Age of America. You would need very little (if any) decoration, since the surroundings will immediately convey a sense of luxury and hospitality.
---
With unique styles and grand décor, as well as their own stories adding to your scripts, these hotels and motels are some of our favorite properties amongst our collection of photo and film rentals in Los Angeles. In case you've like any of the listings, would like to see more pictures, or request a booking, please follow the links to the individual pages by clicking on the links in the description of each listing.
That said, in case you were hesistant about renting hotels and motels because they seem costly, here's a detailed blog that explains how much it costs to rent an abandoned hotel or motel for filming for a day. Happy filming!