Top 8 Workshop Locations in New York
There's a lot of workshops that are organized in New York but only a few are absolutely perfect. These are primarily because the workshops have the correct aesthetic and the right ambience. So location becomes really important when you consider organizing a workshop. So what is the best location in NYC to organize a workshop? Well here's our pick of the top 8 workshop locations you can rent in New York to organize a perfect workshop.
---
8) Exposed brick Multi-use Event/Shooting Space
This exposed brick event space is perfect for organizing any event or workshop you might have in mind. With the right spatial aesthetics and ambience, this space photographs really well and is a great option if you've a recurring workshop. The venue can accommodate upto 74 people and has a floor space of 1,200 sq ft. There are also chairs, tables, a projector, refrigerator, freezer and Wi-Fi available on the site allowing it to help with your workshop prep.
Available on Giggster, starting at $180/hr.
---
7) Soho Designer Loft Showroom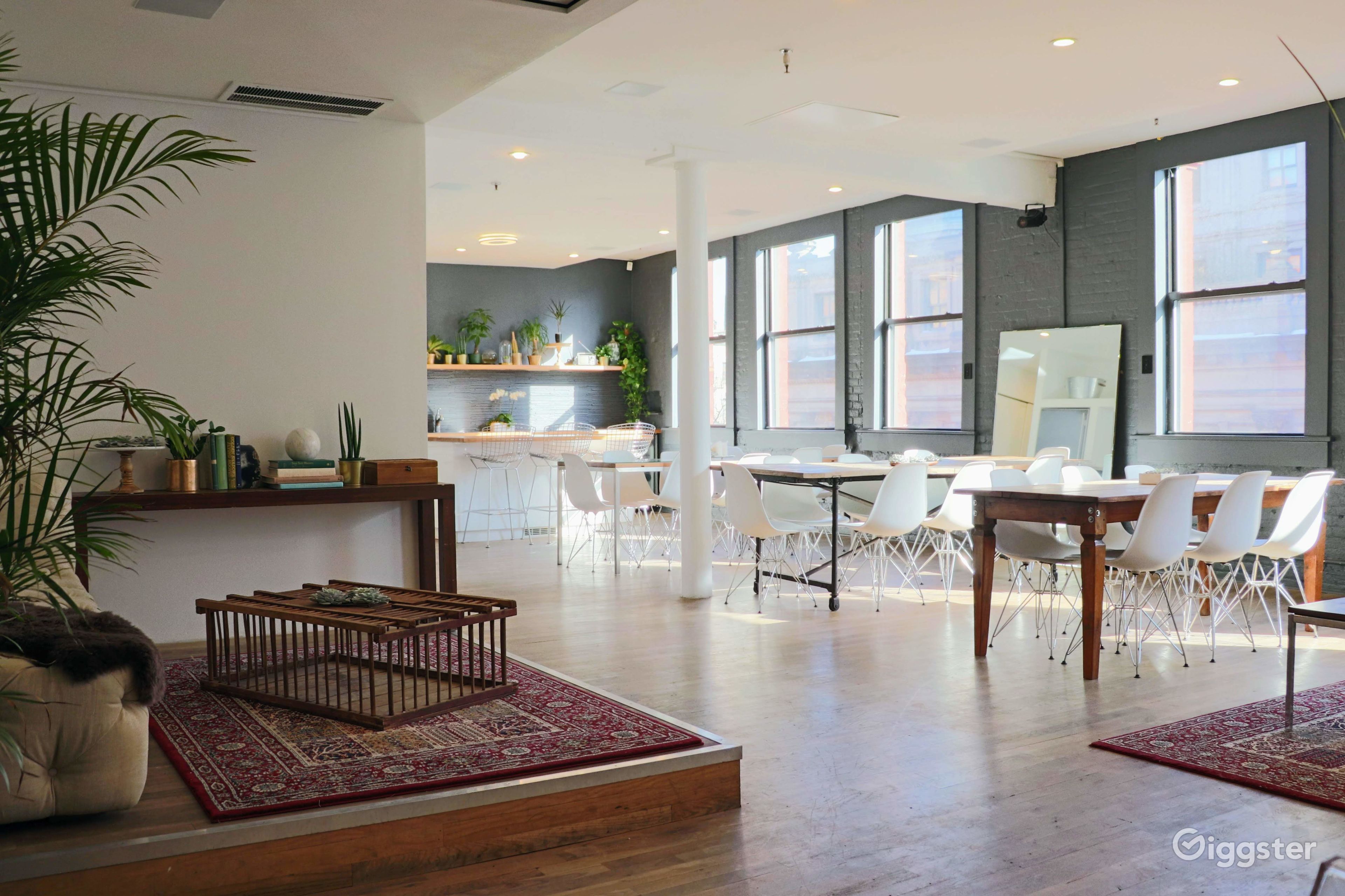 Fully equipped with everything you might possibly need including extensive audio/video & technology systems, digital signage, designer furniture, mood lighting, office supplies, full kitchen and serving items, this SoHo Loft is the perfect spot for arts and crafts workshops. For a detailed list of the features, and to check out more images from the space, please visit the link below.
Available on Giggster, starting at $225/hr.
---
6) WorkHouse NYC
An office space in midtown Manhattan, this venue has a landscaped rooftop terrace, 2 outdoor terraces adjacent to meeting space, multiple conference rooms, two coworking floors and lounge areas that transform into event space. There's also an open floor plan with plenty of seating area as well. Perfect for a professional workshop or development session, you can make use of the entire space for your activities.
Available on Giggster, starting at $425/hr.
---
5) Friendly office & event space
A natural light filled space with an open floor plan, this industrial setup has a lot of friendly and homely elements to it, this listing is complete with a multipurpose room, a conference room and a kitchen. There is a total floor area 8,850 sq ft and is great for organizing group events and workshops. If your workshop is professionally inclined, then this space would be perfect for you.
Available on Giggster, starting at $500/hr.
---
4) Trendy Gallery Space In Of Chelsea
Perfect for an event in the heart of Chelsea, this venue is a landmarked, historical building and can accommodate nearly 60 people. The listing also has a surround sound system and wall uplighting which can be used for your workshop. There are also three projectors which allow you to project images on 2 walls and a screen which makes this environment really conducive for arts and crafts workshops.
Available on Giggster, starting at $250/hr.
---
3) Workshop & Meeting Space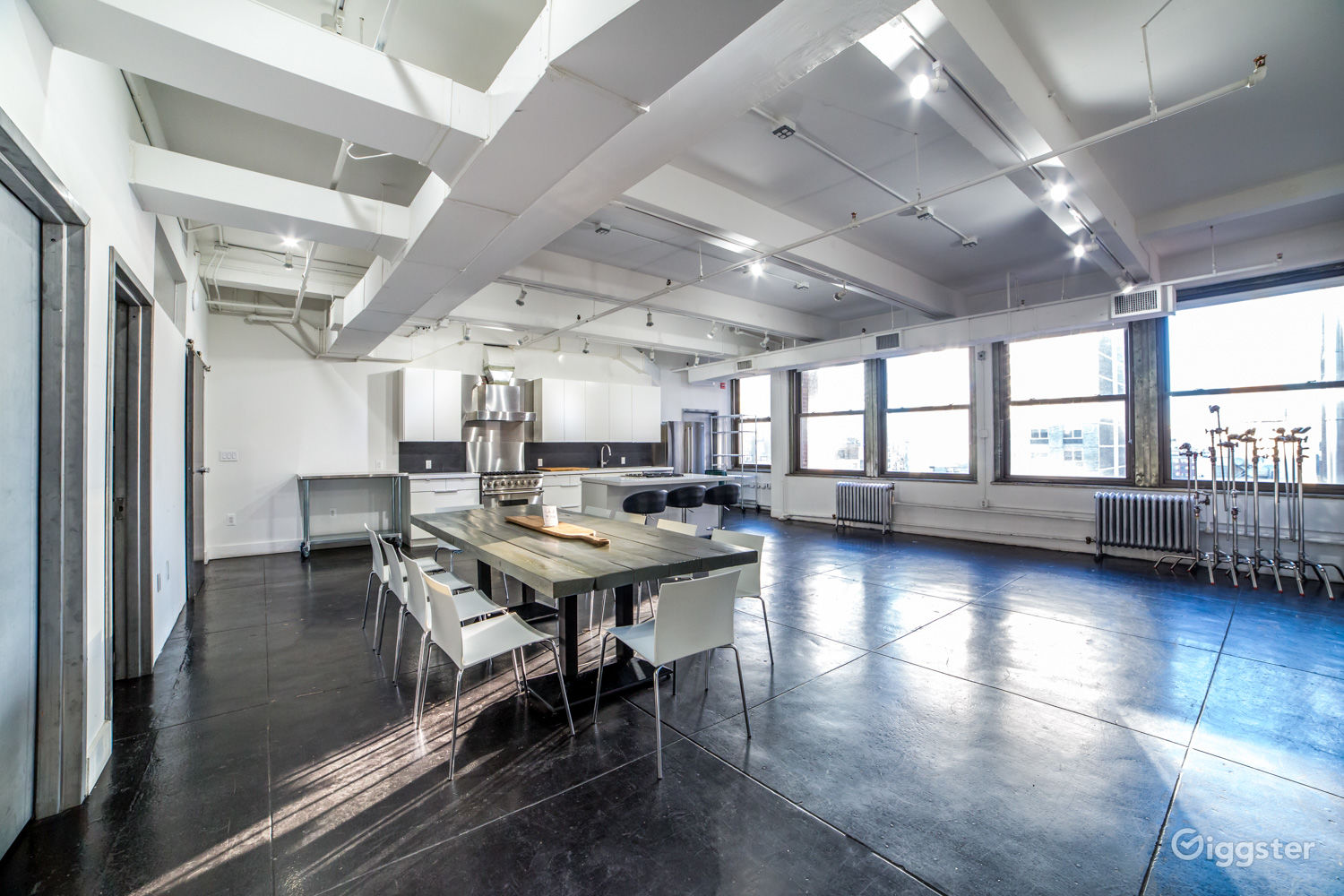 A beautiful warehouse with natural light sweeping in from all sides, this small venue is perfect for organizing your weekly or monthly workshop. Cheap on the pocket and equipped with the minimal, there's a strong grunge vibe that emanates from the space. All in all the ideal space for most workshops. However to know more about the space and its limitation, please call the host or go through the details in the link below.
Available on Giggster, starting at $105/hr.
---
2) Mid-Manhattan hub for creativity & events
Home to one of the world's most popular modern dance companies, this listing is an 87,000 sq. ft space which doubles as the base for the Alvin Ailey American Dance Theater. The entire building contains 16 rehearsal studios, a 275-seat theater, and two combinable conference rooms which can seat up to 50 people. You can choose which part of the building you want to rent, and between the different floor spaces and room styles, you're guaranteed to find space for all kinds of workshops.
Available on Giggster, starting at $583/hr.
---
1) Historic Brooklyn Creative Space
A great venue for workshops, this venue includes a fully functional kitchen, classroom environment and gallery space. There's also a fair amount of photo equipment available on site which you can use for any photo needs. The space is perfect to host workshops for artists, chefs and entrepreneurs; and the listing has a very quaint and accommodating vibe to it making it an ideal environment for learning.
Available on Giggster, starting at $75/hr.
---
That's our pick for the top workshop locations in New York. These spaces look incredible on camera as well which really helps if you're looking to take some pictures of the event. However, if you would like to take a look at some more options, then please go through our catalogue of workshop locations available for rent in New York.