Top 10 Cheapest Homes For Filming in Los Angeles
Surviving as a filmmaker in LA isn't easy, and without a huge budget, it can seem downright impossible. Fitting the various productions costs into a four-figure budget requires a combination of financial wizardry, stubborn persistence, and a certain amount of good luck. We here at Giggster can definitely help with some of said wizardry. Especially when it comes to helping you find the perfect film rentals in Los Angles. So if you're shooting a film on a tight budget, here are 10 amazing camera-ready homes you can rent that'll make your film work at low costs. Read on to discover some hidden gems.
---
1) Backyard Beach House in Santa Clarita
A gorgeous beach home in Santa Clarita with a stunning backyard, this property is great for all sorts of scenes and frames. With a pool, hot tub, a built-in bar, mature landscaping, and plenty of seating space the outdoors have great film potential during the day or at night. Indoor, the home features an open floor plan with multi-colored walls, different floor textures and tastefully selected art and fixtures. An ideal spot for a low budget production.
---
2) Retro Home with Elevator in Beverly Hills
A standalone retro home with an elevator, this charming property has a dated, retro vibe impossible to find at these prices. The entrance features a bright red door, capable of being an iconic elements in your film and footage. The home has all sorts of artwork and rooms inside, including a wine cellar, multiple bedrooms, and plenty of living spaces, all well lit and thoughtfully curated. There's even a charming balcony patio overlooking an idyllic street, adding to the retro, laidback nature of this property.
---
3) Tropical Themed House and Production Cottage with Pool, Tiki Bar & Grill in North Hollywood
If you like your locations a bit on the wild side, this North Hollywood party home with a production cottage is going to be a dream come true. With an ample backyard, dozens of colorful props, and a big beautifully maintained pool, this property has everything set for a party. And, if tiki bars and pool floaties aren't your thing, the home can also fill the role of a middle class suburban home, as the interior is more subdued than the backyard.
---
4) Cozy Califronian Bungalow in Highland Park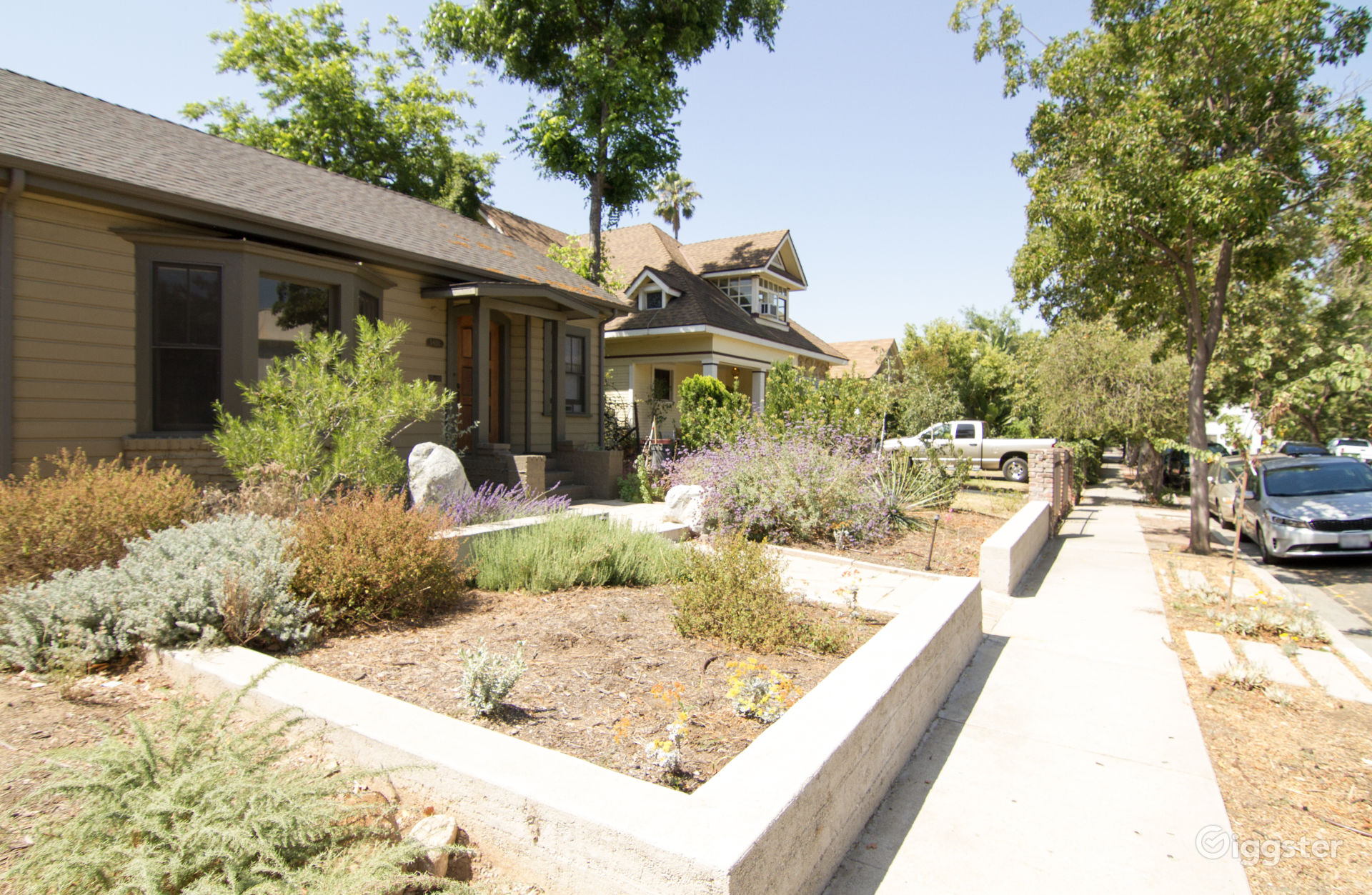 Rather than boast a single standout feature, this Highland Park home does just about everything well, providing a flexible blank canvas for inventive filmmakers. Original hardwood floors and warm neutral tones throughout make it a decorators dream, and it also offers an impressive curb presence for its budget-friendly price point. There are plenty of areas to film your sequences including the back deck, inside the home, or on the charming garden up front.
---
5) Ranch House with a Jungle Feel and an Empty Pool off Ventura Freeway
A tropical-themed ranch home with an overgrown garden, there's a charming, American vibe to this listing. The classic front porch design features a small patio area with rocking chairs, and there larger back patio overlooks a basketball court. There's even a designated area to build your own sets at this location that sits on a massive 110,000 sq. ft. lot. Also, its certainly within all sorts of shoestring budgets.
---
6) Turnkey Loft Guest House in a Tropical Resort near Woodland Hills
A small, turnkey guest house with a high cathedral ceiling, this is your go-to spot for a rags-to-riches themed film in Los Angeles. The guest house has everything you could expect from a resort home, and shared walls give it a very humble look. The site also features a natural rock waterfall splashing into a Laguna-style lap pool, a heated spa, a tiki Hut cabana, a fire pit and much more you can utilize on your shoot here.
---
7) Family Home with a Clear City View near View Park-Windsor Hills
A family home with 180-degree panoramic views, including visuals of the Hollywood Sign, Griffith Observatory and the 4 mountain ranges behind, this venue is a joy to shoot at. The outdoor patio is well landscaped and looks gorgeous throughout the day, and into the night. Inside the home features muted, natural color tones with simple furniture and fixtures, giving it a very middle-class vibe. There are also plenty of windows, and inlets for natural sunlight to come gushing in, greatly reducing your cost and logistics when it comes to equipment.
---
8) Beach House with Tropical Plants in Venice
Offering a rare combination of affordability, design, and functionality just off Abbot Kinney Boulevard in Venice, this charming home is designed for the camera. The home offers a lush, plant-filled yard adjacent to a wide, quiet street; and indoors, is an extravaganza of color and house plants. Decorated in a largely Bohemian aesthetic that looks magical on film, this listing also lets you explore the beach while having a safe space for your equipment and other film rentals. Needless to say (still going to say it),its close position to the Venice canals and the boardwalk, also make it an excellent option to shoot some quintessential California B-roll.
---
9) Mid Century Modern Home near Hollywood Burbank Airport
Extremely affordable film-friendly homes are hard to find in Los Angeles, especially ones with a consistent design style and enough space to host a full film crew. Well this 50's themed home in NoHo a rare find, and definitely one to visit for your low-budget production. The home is open, airy and bright, with tons of art and furniture, while the garage is a perfect space to keep any equipment you might not be using for a shot.
---
10) Downtown L.A Stripped House near L.A Civic Center
Great locations aren't always beautiful, and sometimes they can be downright scary. While a decrepit rat trap may not be everyone's cup of tea, this furniture stripped home offers a huge amount of cinematic possibility. From creepy horror shoots in the basement, to rap music videos on the front steps, this little property has hosted an amazing array of projects. It also avoids any obvious indication of its California locale which helps add to its flexible appeal.
---
So there you go, our list of the best, low-budget residential filming options in LA. These locations are perfect for a cheap and affordable film shoot, and let's just say this is only a shortlist. If none of these options feel like a good fit, you can always explore more locations by following this link to view our catalogue of listings available for film and photo rentals in Los Angeles.