The 9 best locations to rent for your fashion photoshoot in Atlanta
Whether you're looking for a conventional photo studio, or more custom spaces, this list curated from all our available venues to rent for a fashion photoshoot in Atlanta, is ideal if you're looking at a location to conduct your fashion shoot at. From rundown warehouses to chic bungalows, there are a range of looks available on Giggster for you to go through. But going through them all may take some time. That said, we've created this list of our favourite fashion photoshoot location rentals in Atlanta where you can capture a range of looks. We hope you find what you're looking for
---
1) Charming Brick Home in Brookhaven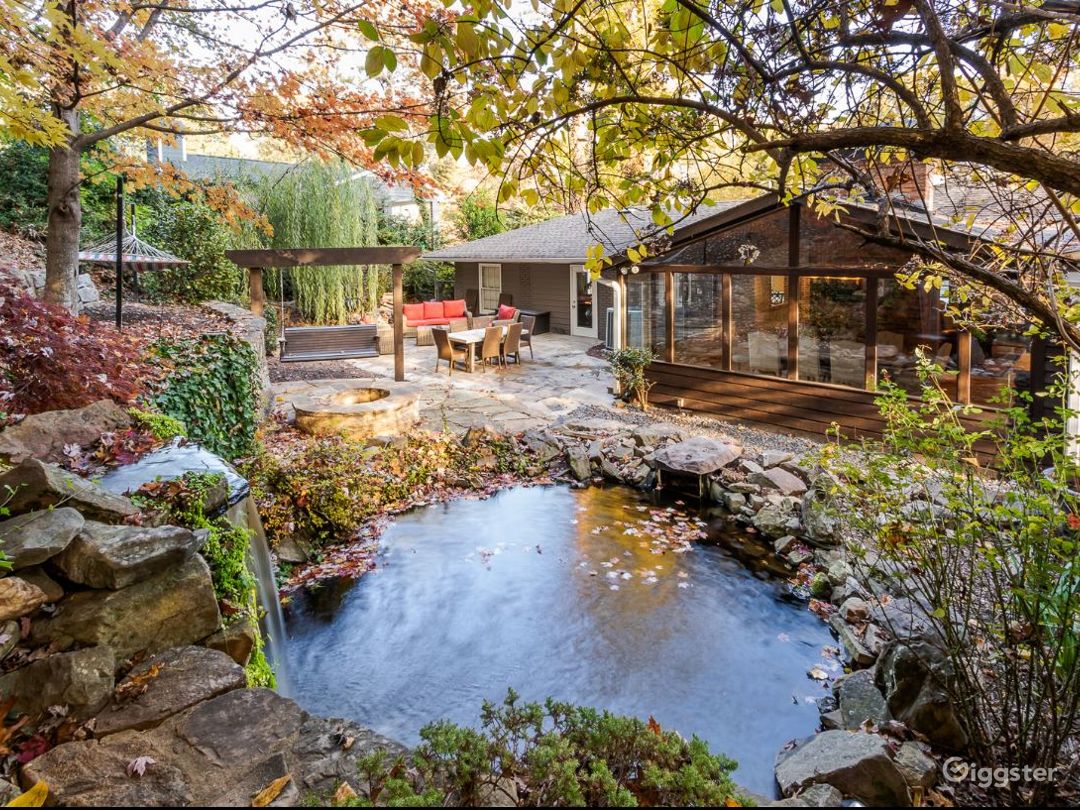 An exquisite family home with designer interiors and landscaped exteriors, this one-of-a-kind listing is a 60s home renovated to add a touch of freshness, vibrance, and joy to space. Featuring an open floor plan, the various rooms of the home all are decorated and styled for the camera and has fixtures including a piano. The outdoor patio is abundantly charming with a small water pond, multiple seating areas, and a fire pit acting as the main focal points of the backyard.
---
2) Rose and Gray Studio
A fashionable space with a rose pink and ash gray color tone, this 920 sq. ft. work and home studio office offers delightful aesthetics for a fashion photoshoot. A turn-key condo with brushed nickel finishes and fixtures, white walls, a walk-out balcony, and a spa-like bathroom to name a few, this space is highly conducive for a fashion project.
---
3) Production Studio w/Green Screen & Sets in Norcross
A large studio space with a green screen, this location also has the technology to live switch between different cameras. There's also a green room, a few standing sets, and an army of award-winning staff to help you on your photoshoot at this location. There's also a bunch of other rentals you can request from the space on the date of your shoot.
---
4) Dramatic Bohemian Home in Midtown Atlanta
A designer home spread over two levels, there's an intense bohemian drama that you can experience at the location. The eclectic, upscale home showcases a collection of curated art, decor and textiles, all creating contrasting patterns perfect for the camera. There are many different looks and backdrops waiting for you and your camera here.
---
5) Chic Bungalow in Downtown Atlanta
A swanky and chic 2 bedroom, 1 bathroom designer home, there's a breezy, open vibe to this listing that comes from its furniture and decor choices. Contrasting patterns with vibrant colors are wherever you point the lens, and contribute to the range of backdrops to choose from on your photoshoot here.
---
6) Empty Warehouse off the Beltline
The gritty, raw energy is palpable at this 50,000 sq. ft red brick exterior warehouse in Atlanta. The former home of the Atlanta Belting Company, the deserted location looks splendid when you want to create an industrial vibe in your fashion photos. The large open space and multiple levels mean you'll be able to capture all sorts of angles and frames at the listing.
---
7) "Old World" Mansion in Buckhead
A mansion home that makes you feel like you're walking through time, there's an unmistakable warmth and character that takes over the moment you step in through the beveled glass French doors. With 6 fireplaces, each offering its own camera look, this 9000 sq. ft. property set on a 1.3 acres lot, has cobblestone walkways and English gardens adding to the appeal. Definitely one where you'd like to see more pictures, you can do just that by clicking on this link to visit the listing page of this mansion home in Buckhead.
---
8) Exposed Brick Modern Loft Photo Studio near Atlanta University Center
Another value for your money offering, this 1,500 sq. ft exposed brick photo loft is well equipped to handle your fashion photoshoot needs. The brick walls, exposed beams, and columns add a raw, yet controlled finesse to the photos taken here. The location also provides one set of strobe and continuous lights, a backdrop and a clothing steamer within the cost of the rental; all of which go a long way in adding that professional look to the images you make here.
---
9) Urban Glass Tree House in Midtown
Fashion photography looks best in a naturally-lit setup, and this urban glass tree house promises to offer just that. The iconic home lets in waves of natural light from all directions which create an unmatchable natural light setup. The abundance of glass on the exterior also gives the home a very cutting-edge look which is highly desirable in contemporary modern fashion photoshoots.
---
Fashion photoshoots can be a challenge, and getting the location right is a definite step in ensuring your project proceeds hassle-free. The locations mentioned on this list promise just that - wonderful, photo-perfect fashion photoshoot backdrops. But these are the only ones in our collection. To scroll through them all, please follow this link to open up our catalog of fashion photoshoot locations in Atlanta.