The 9 best locations to rent for your engagement photoshoot in Atlanta
An engagement photoshoot requires a lot of elements to come together, at one place, to create something magical. At one place. One place. That's how important choosing the right location is. In Atlanta, a city sprawling with green spaces, vintage homes, and modern structures, Giggster offers a lot to choose from. To help with this, we've narrowed down on these 9 locations ideal for an engagement photoshoot from our list of engagement photoshoot rentals available in Atlanta. Read on to discover some hidden gems and unique photo opportunities -
---
1) Brick Mansion near Piedmont Heights
Going for a sophisticated look? Then head to this opulent brick mansion with camera perfect rooms and aesthetics. The open floor plan across the home plays on the brown-white-gray color scheme and presents plenty of photo opportunities. With both outdoor and indoor living spaces, there's no limit to the backdrops and settings you can choose from at this listing.
---
2) Bungalow with a Detached Garage and Shed near DeKalb-Peachtree Airport
A cute bungalow with a 50s feel, there's a very romantic, homely energy that resonates with a couple long in love. The backyard also has a detached garage and shed which has its own stories to tell when you capture it in your backdrop. There's a lot for your camera to like about this venue in terms of charm and photo aesthetics.
---
3) Newly Renovated Mid Century Modern Home off I-23
A newly renovated mid-century modern home with a guesthouse and a two-car garage, this beautiful listing also has a creek in the backyard. Indoors, vibrant colors come through the bold furniture and fixture choices creating a wonderful photo appeal to the space. The grounds around the location offer a wild-ish look that synergizes with the tranquil energy that exudes from the space.
---
4) Vintage Bungalow with Designer Furnishings near Midtown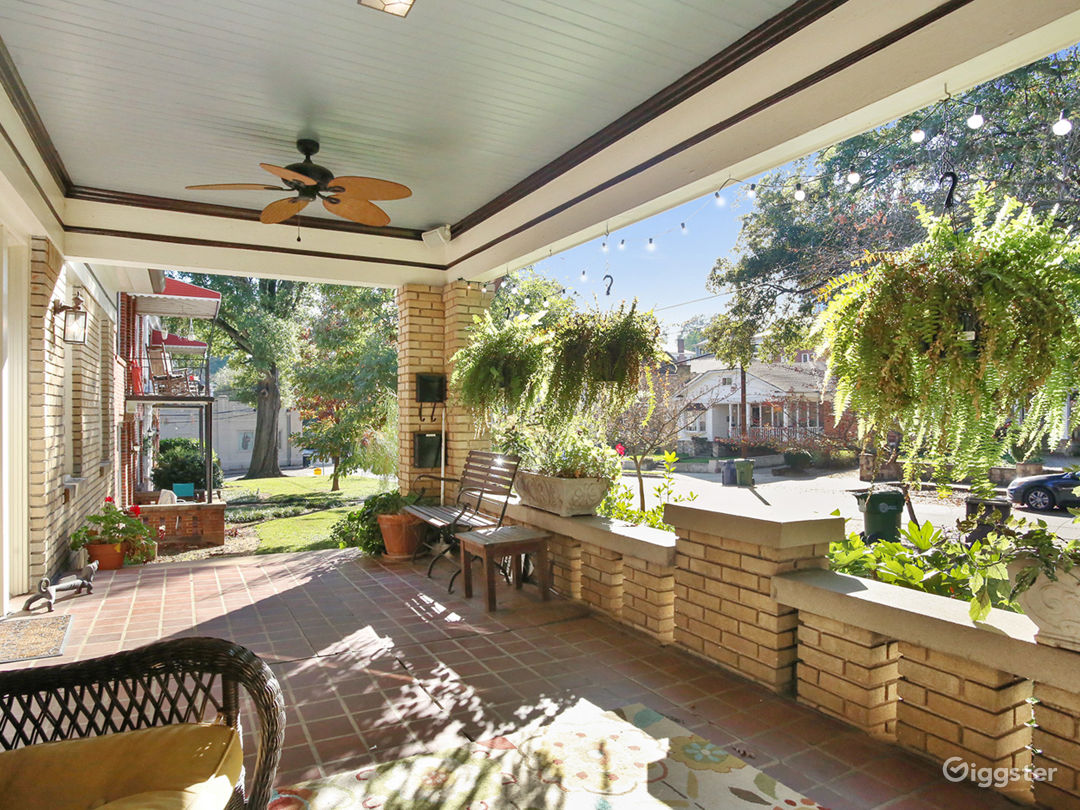 A retro bungalow with designer interiors, a landscaped front yard and porch, this location promises to be quite the nostalgic space for your engagement photoshoot. The brick fireplace, choicy furnishings and thoughtful seating setups further the natural photo potential of the rental. A rustic charm hangs in the air at this vintage bungalow which adds a lot of authenticity to the space.
---
5) 1920s Brick Renovated Craftsman Home in Old Fourth Ward
Spread over 1,700 sq. ft. this 3 bedroom, 2 bathroom craftsman home may not look like much, but that's only till you take your camera there. Renovated to open up the space and make it brighter, the layout and furnishing create a cosy feel to the listing. The open floor plan makes it easy for you to move around the home which also features a segmented bedroom.
---
6) Industrial Warehouse at West End Production Park
Quirky and thematic, this industrial warehouse sits on 9 acres with over 300,000 sq. ft of flexible production space. The West End Production Park not only offers one of the best skyline views of the city, but also features preserved looks dating back to the 1800s. Skylights, different wall textures and colors, large open floors, the location is your canvas for a one-of-a-kind engagement photoshoot.
---
7) Luxury Home in Old Fourth Ward
A 3,000 sq. ft home in the heart of Old Fourth Ward, the luxury on display makes it way to the images taken here as well. Stained glass windows, marble and carpet floors, a home theatre, a game room, a spa bathtub, there are plenty of backdrops here allowing you to derive the most value for your buck. With designer furniture adding to the camera presence, you're guaranteed intimate, opulent photos at this location.
---
8) The Westside Warehouse in Atlanta
A converted warehouse with soaring cathedral ceilings, exposed iron beams and epoxy concrete floors, this creative space is waiting for you and your camera. The gritty industrial warehouse aesthetic is softened by handcrafted rustic details and antique French doors creating an elegant, pop look to the space. Definitely one where you're sure to capture a one-of-a-kind look.
---
9) Decatur Photo Studio
If your engagement is for an artsy, creative couple, then this photo studio with high ceilings in Decatur captures the energy you've in mind. A space where you can let your imagination run free, there's also the potential to craft your own set at the venue. There are also blackout curtains and paper backdrops available for you to use during your photoshoot here.
---
Whether you're a playful, spontaneous photographer, or one who plans meticulously, across these spaces are a bunch of different styles and aesthetics you can choose from. From vintage, rustic vibes to modern, state-of-the-art homes, you've plenty to play around it and all sorts of frames waiting for you across these locations. However, in case you'd like to see more locations, please follow this link to scroll through our catalog of photo rentals available for an engagement photoshoot in Atlanta.