8 Amazing Baby Shower Venues in New York
If you're looking for the most amazing spaces to rent for a baby shower in the New York Area then you've found the perfect webpage. In this list, you'll come across quaint and exclusive homes, heritage and historic spaces and themed party venues. All these venues have their own ambience which perfectly slots into the kind of event you're looking to organize or host. All said, here's our pick for the top baby shower venues in New York.
---
8)Artist Lake House with Stunning City Views
A massive 1.3 acre retreat set amidst the wilderness overlooking the lake, this listing offers arguably the most picturesque lake view in lower Westchester County. The venue has complete privacy and offers many different looks and feels ranging from intimate and special to friendly and accommodating. A stunning location for whatever feel you're going for!
Available on Giggster, starting at $350/hr.
---
7) Enchanting Catskill Colonial Home On 14 Acres
If you thought 1.3 acres is a lot, then this colonial home on 14 acres would be unimaginable in magnitude. The listing is for a beautiful colonial home atop the idyllic historic hamlet of Cragsmoor, atop Shawungunk ridge. This enchanting, unique property is designed to be in harmony with the beauty of the land - and is one of those perfect locations to host your baby shower in NYC.
Available on Giggster, starting at $100/hr.
---
6) Historic Mid Century Modern Zen House
A mid-century modern home that exudes peace and serenity, this property was once owned by Gutzon Borglum, the master sculptor who designed and carved Mount Rushmore. This location is absolutely unique because of its proximity to the Rippowam River, its large and beautifully lit pool, and the one of kind stonework created by one of America's most celebrated sculptors. To see more pictures and know all the features, please click the link below.
Available on Giggster, starting at $195/hr.
---
5) Stone Cottage in the Woods in Connecticut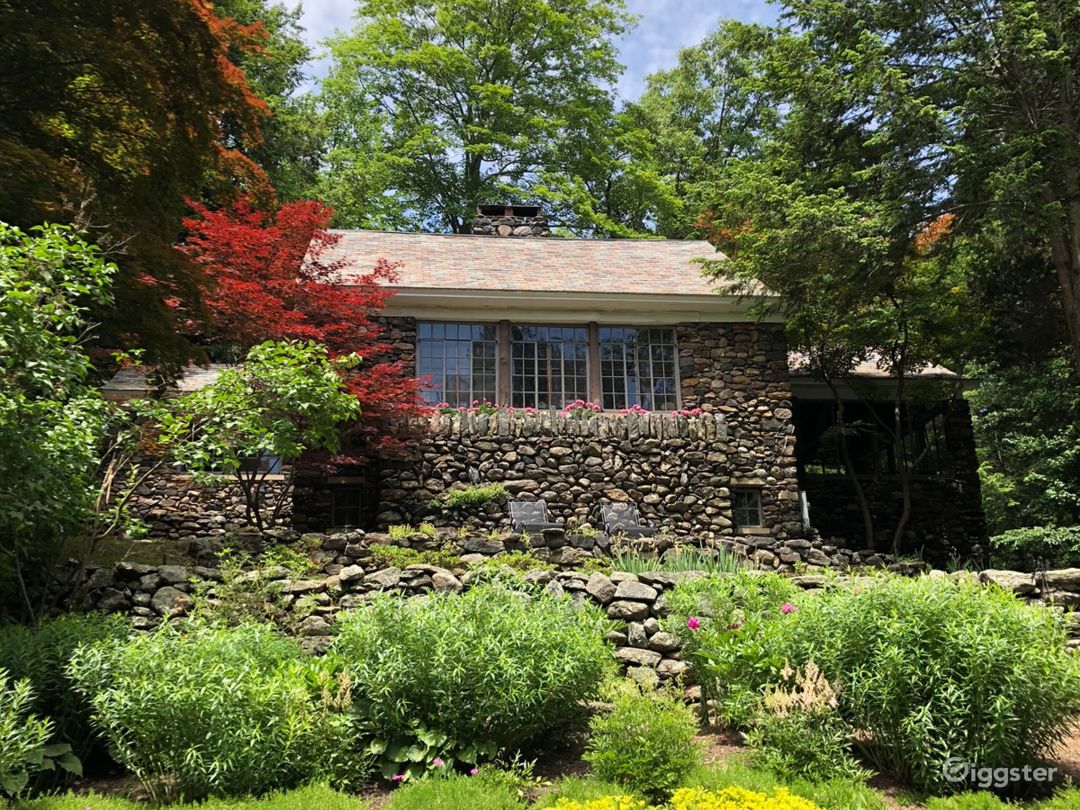 Located a few minutes' drive away from the Candlewood Lake, this rustic stone college is fully equipped with everything you'd need for a great baby shower. Styled with a very french aesthetic, the home has a greenroom with a movie screening area, a SONOS sound system and much more. To find out more details, or know more about the listing and its features, follow the link below.
Available on Giggster, starting at $250/hr.
---
4) Bar/Cafe
A small cozy neighborhood bar and cafe with french doors, lots of sunlight, handmade woodwork and local art, this listing is perfect for a reserved baby shower. The working pub also helps solve any catering logistics and allows for more than a set menu. There's also a lighting system, sound system and a stage at the venue which would be perfect for any activities you might have in mind.
Available on Giggster, starting at $66/hr.
---
3) 1950s Florida Resort Style Cocktail Bar
A retro cocktail bar and full-service restaurant adorned with cartoon palm trees, that evokes bygone California and Florida resorts, this space has a very breezy vibe. The classic American food is also very highly rated. The venue is held together with a rock and soul soundtrack. Definitely a bit steeper on the pocket, the place is great for hosting more than 80-100 people.
Available on Giggster, starting at $1500/hr.
---
2) Private Residence with Quaint Back Deck
A private residence with a forest-like view from the back deck, this home is a great venue to organize your baby shower. There's a lot of open area surrounding the house and the deck can comfortably accommodate 10 people. Great if you're looking for an exclusive, intimate place to share with a small group.
Available on Giggster, starting at $125/hr.
---
1) Brooklyn Loft for Events
Located in the heart of the iconic Clock Tower, this exposed brick bar is a spectacular place to be at. Not only is the food delicious and local, but the atmosphere offers both excitement and serenity. A great space with immense value for money, most of the baby shower logistics are already taken care of within the budget.
Available on Giggster, starting at $50/hr.
---
Across the entire New York area, more than 100,000 births happen each year and all of them require a babyshower. From exclusive zen homes to themed cocktail bars, we've got all the different looks and themes you could need. If you don't find them here, then please go through our exhaustive list of all baby shower venues available for rent in NY.