7 Best Baby Shower Venues near Atlanta
Baby showers are a one-of-a-kind celebration that deserve an intimate, calm and perfect environment. It's about creating a special atmosphere and introducing magic in the air. Everything about the day has to be spot on. The ambience, the decor and the setting. The space also needs to look great on camera for all the many pictures and videos that'll be shot and filmed here through the proceedings. Keeping all this in mind, we at Giggster, have created this list of the best baby shower venues near Atlanta which you can rent for your special occassion.
---
1) Family Home with Amazing Backyard Pool and Deck in Marietta
A contemporary family home with an incredible backyard pool and deck, this listing is great for a baby shower when the sun is up. A contemporary home with an open floor plan, the home is a great space to set up for a baby shower and invite those close to you. The listing also looks great on camera which really adds a lot of flavour to the images and videos you might film.
---
2) Old School Rustic Bar in Chamblee
A quaint event space that dates back to the 1800s, this charming venue in an all-brick building has a very welcoming atmosphere. With old school decoration aesthetics including copper-pot lights, old wood floors and a fully restored, Peabody Hotel Bar, this venue is a great space for throwing a classy birthday shower. Despite being an event venue, this listing has a very homely feel to it and looks stunning on camera as well!
---
3) Renovated Brick Home in Brookhaven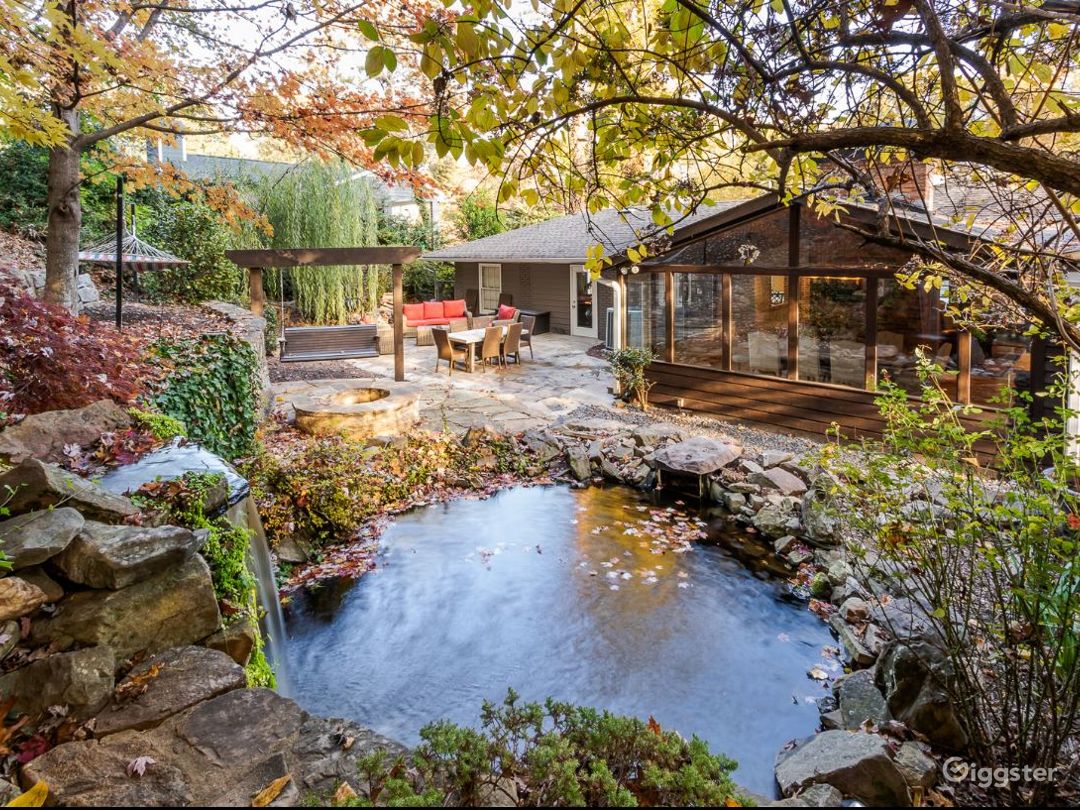 A charming home with an exceptional outdoor area, this neighborly spot is perfect for hosting an outdoor event. The lush open yard, outdoor patio and conversation area and a picture perfect pond add a lot of vibrance and freshness to the space. If you're hosting a shower for someone who loves a calm environment, then this is the way to go!
---
4) Tropical Home with Backyard Pool and Patio in Norcross
A stately brick house with a charming backyard, this property is great if you're planning on more indoor activities and games for the baby shower. The open floor plan has plenty of space to move around and organize all sorts of activities. There's also a lovely backyard which can accomodate 20-30 people which you can use.
---
5) Trendy Beach Style Restaurant in Downtown Atlanta
A trendy beach style restaurant is a great space for organising a baby shower. Situated in the heart of downtown Atlanta, one block away from the iconic Peachtree Street. The indoors are a very conventional beach style bar - minus the beach. A warm, relaxed atmosphere brews indoors and the street patio section offers many comfortable tables outside.
---
6) Luxurious Estate Home off I-75
A gorgeous estate home with all sorts of living spaces and aesthetics, this location is ideal for a grand baby shower. The lavish 14,000 sq. ft home sits on a 350,000 sq. ft lot, and has everything you could need from a home and then some. From a gorgeous jacuzzi and tropical pool to tennis courts and a treehouse, this location has it all. There's also a beautiful purple room which looks truly unique and allows for plenty of amazing event themes and photoshoot opportunities.
---
7) Bright Sunny Condo near Atlantic Station
A charming urban condo home located in the heart of Atlanta, there's a very homely, fresh and fun vibe to this listing. Perfect for a small sized get together near the centre of town, there are plenty of charming and relaxing vibes that exude from this space. With great on-camera aesthetics, you're certain to enjoy quality photos and film from the day of the event too.
---
Whether a first time parent or not, a baby shower deserves to be throughly celebrated each time. From stately brick homes to rustic cafes, we've listed down our pick for the top baby shower venues near Atlanta. If you'd like to book any of them, please follow the links in their description, or go through our entire catalogue of baby shower venues available for rent in Atlanta.