11 Spooky Horror Film Locations You Can Rent in New York
Who doesn't love a good jump scare? The feeling of chills in your spine, of anxious anticipation, of wanting to shout but not really - there's a lot to experience while watching a horror film. And at the planning level, there needs to be a lot of thought put into the locations, lighting, set decor, makeup, clothing and more. It could be argued that setting up the right visual tone and aesthetic is very very important to horror movies, more so to this genre than most. So without further ado to any aspirants of this movie genre, here's our pick for the 11 spookiest places to rent for film and photo in NYC.
---
11. Abandoned Industrial Warehouse
Broken windows, pale industrial walls, unkempt vegetation growth; there's a lot of visual cues for something scary without putting in any effort. In addition to its pseudo-natural scary looks, this neglected lot has a lot of a loading bay, gravel pit, an empty industrial warehouse and a lot of open space. Depending on what you script/reference looks like, there's plenty you can accomplish with a camera here.
Available on Giggster, starting at $150/hr.
---
10. Stone Hunting Lodge
A quaint stone home and hunting lodge, this Gothic property can take on an eerie vibe with a change in the lighting. The natural elements, dark colors and tones really add to the on-screen sombre and effect. There is a Great Room with Cathedral ceilings, plus 4 bedrooms, 2 baths, a renovated country kitchen, and two big outdoor patios. In addition to the rooms there's plenty of cool features like exposed beams, the barn door, wagon wheel chandeliers, diamond-shaped windows and more. A space that lends itself perfectly for the camera, you're guaranteed to find some beautiful angles here.
Available on Giggster, starting at $195 /hr.
---
9. Neglected Gothic House
A neglected Americana home in NYC, this listing is a usual home with unusual features. And features that look great for a horror movie. These include a brick fireplace, a wooden deck, fireplace with mantle, dirt walkway, and the dark interiors. The dilapidated look contributes to a feeling of spook which is often reflective of a ghost/spirit. There isn't anything over the top on site and with decent control over the lighting and some control over the space, you're certain to have a good time shooting here.
Available on Giggster, starting at $250/hr.
---
8. Rustic Isolated Farmhouse with 2 Barns
Spread over a sprawling 17 acres of land, this rustic farmhouse has all the making of a horror movie location. A dilapidated interior gives the farmhouse a very rustic look which translates really well on camera. There's also a waterbody on site and a lot of dirt grounds which really make for a good country backdrop. With plenty of open spaces onsite to setup your rigs, get ready for some stunning imagery in your projects.
Available on Giggster, starting at $750/hr.
---
7. Old Italianate Style House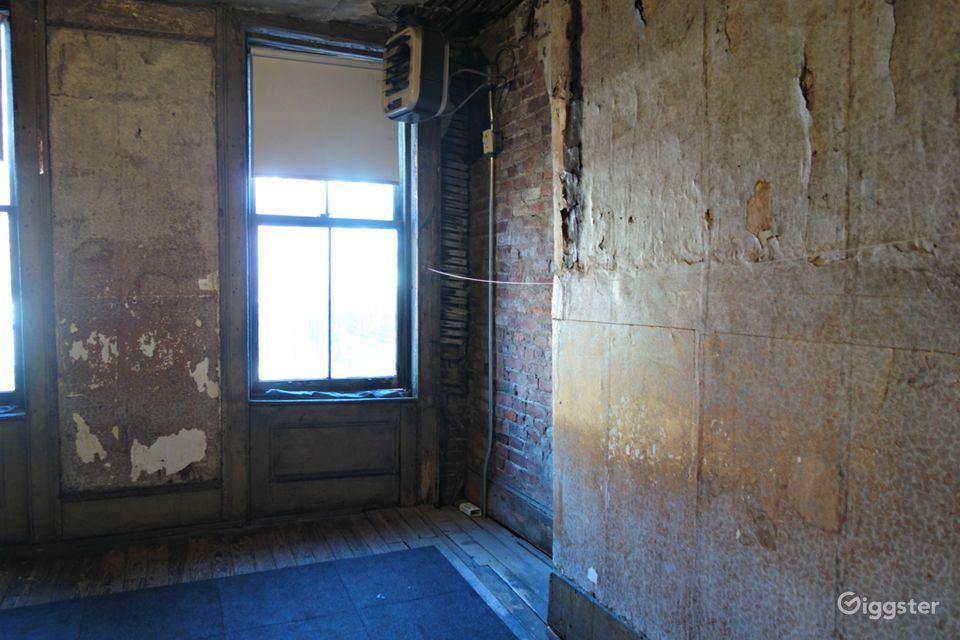 A designated museum, this building was erected in 1863 and the period correct furniture and fixtures really make it seem like several generations of ghosts belong within these walls. Designed to house 20 families, this Italianate style house has yellowing walls, rusting metals, exposed pipework and traces of intricate artwork and decor. A proper blend of old school charm and culture, you're bound to find some great looking angles for your projects.
Available on Giggster, starting at $715/hr.
---
6. Abandoned Premises with Furniture & Roof Access
An entire building that is neglected and rundown, this incredible space is perfect to shoot any horror film or photo project. An abandoned hospital by the looks of things, there's plenty of furniture remaining from its heyday including wall-mounted TVs, cupboard and even some scary looking medical equipment. The walls are chipping, yellowing and falling - giving you a lot of textures and looks to play with. With a multi-floor, multi-room and rooftop access, there really isn't any shot you can't take here. But be sure to carry a few lights - the space really lacks the necessary light to shoot video unless you're using a hi-tech professional grade camera and lenses.
Available on Giggster, starting at $350/hr.
---
5.Dutchess Mill
One of those relics from the times bygone, this 18th century mill is a historic industrial building that has been around for longer than everyone on this planet. Abandoned for many years, the structure was a lovely ruin and a hollow shell except for the steel beams and the stone walls that remained standing. The interiors are modernised adding a juxtapositional element of past meets present, which really helps in the narrative creative for horror films. There's also incredibly photogenic setups at the roof, pond, patio seating area and pretty much the entire interior of the house.
Available on Giggster, starting at $350/hr.
---
4. Huge Basement with Exposed Columns
A 15,000 square foot vaulted ceiling basement space, this open columned basement has a very raw, eerie feel about it. Built around the late 19th century, this space has retained its industrial look and remains untouched. High ceilings, exposed beams, concrete floors - the industrial aura can be made spooky by adding a touch of blue and smoke. In addition to this, there is a mezzanine, a tunnel, narrow walkways, eerie lighting, exposed pipework and other interesting features.
Available on Giggster, starting at $750/hr.
---
3. Dilapidated Baseball Field
An abandoned and dilapidated baseball field, this is the only "sports" location on our list. A space with the complete works of your local sandlot, there's all sport and no soul at this location. There's loads of open spaces, unhindered views of the sky and an uncomfortable, eerie feeling about the lot. All in all, it's got all the right vibes you need for your horror photo or film project.
Available on Giggster, starting at $300/hr.
---
2. Vintage NYC Apartment
An empty vintage NY Apartment, this is definitely the space you want to haunt for film and photo purposes. Since the location is unfurnished, there's a lot more character to it which really helps with the jump scares. The walls are covered with fading wallpaper, the wooden floor is dull and dusty and the entire space has a damp, dark environment. The open floor plan really helps with bigger rigs and the apartment seems to have a rust theme which fits in perfectly with the genre.
Available on Giggster, starting at $500/hr.
---
1. Neglected Rooftop with Graffiti
Rooftops and horror films go hand-in-hand. Especially when you've such a scenic industrial terrace with incredible views of the water and the iconic NYC skyline. The low roof walls are marked with graffiti and the proximity to the water really adds a distinct element to your footage. What really helps this property standout is the surreal unhindered view of the NYC skyline. This said, you should really consider carrying light cutters and blockers if you're filming during the daylight hours.
Available on Giggster, starting at $250/hr.
---
Horror flicks are all about the scares and thrills. For this purpose, the perfect location is essential to have the impact you're looking for. And if you're interested in renting any of them, or taking a look at more pictures, or getting an entire list of features, please follow the links provided. Happy clicking!