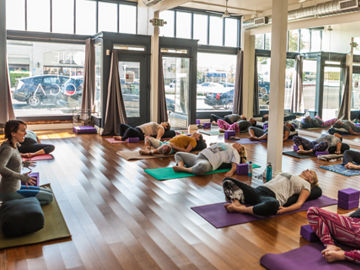 Peaceful, Bright, Light and Warm Yoga Studio
Beautiful yoga and mediation studio space. Two rooms available with high ceilings, skylights and large front windows that allow for great natural light. Yoga room has bamboo floors, floor to ceiling mirrors on one wall, charming red brick on the back wall with industrial warehouse windows. Meditation room has concrete floors, with plush rugs, minimal furniture, 200lb citrine crystal on a small table. Also have a lobby area, a changing room with small restroom and two showers and an accessible restroom, all of which can be used for back of house/makeup/costume etc. Plentiful street parking is available for crew and trucks.
Modern Office Space for Events & Filming
Modern Newly Renovated Full Kitchen for Parties, Workshop, Meetings, Filming, Interview, Photographing/Production Use located near DTLA, Old Town Pasaden, South Pasaden & Hollywood Our newly renovated 6,500 sq ft Pasadena office offers a spacious & convenient indoor/outdoor location available for TV series shoots, filmed interviews, web series shoots, commercials & small productions. Appropriate for production with cast/crew group up to 20. Conveniently located blocks away from South Pasadena and Old Town & Art Center. Easily accessible from the 110 & 210 freeways. Specs & Amenities: • 1 Conference Room [300 sq ft] • Full, modern kitchen [250 sq ft] with large dining/meeting table • Private Outdoor Patio [1,500 sq ft] • 1 restroom + shower [handicap accessible] • WiFi + AV • Parking: reserved spaces available in our private lot for off hours and weekend bookings only. Limited parking spaces can be negoiated for bookings during our operation hours, Monday to Friday, 9am to 6pm. • On-site manager present to answer any questions throughout booking. Conference room, kitchen & outdoor patio are located next to each other, with a connecting door which can be opened for a larger, different set up preference. Our on-site manager will coordinate with you to ensure all needs are met for a successful shoot. Here are some general policies to keep in mind: * All rentals include load-in and strike time. If your booking runs over time, you will be charged time and a half per Peerspace policy. *Insurance cert. is needed. A security deposit may be requested depending on size & scope of your project. * Child talent must be pre-approved before your production. * No loud music/noise outdoor after 10:30pm * This is a smoking & drug-free zone. No smoking will be permitted on the premises. * Furniture can be moved but must be returned to original setting prior to end of booking. Please inquire for permission first. * Trash should be placed in the bins and large disposable trash in our dumpster located at the back of the building in the parking lot.
Architectural gem in Old Town Pasadena
A vibrant, contemporary setting perfect for events, private parties, and filming. Featuring a large studio with hardwood floors, skylights and 38' high ceilings. Conveniently located in Old Pasadena, close to the park, eateries, shopping and hotels, with parking garage next door. We have many space options and can adapt to your needs.