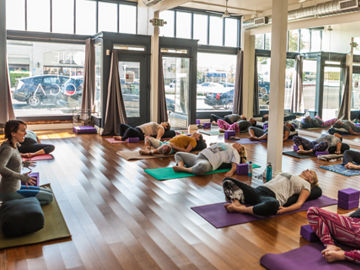 Peaceful, Bright, Light and Warm Yoga Studio
Beautiful yoga and mediation studio space. Two rooms available with high ceilings, skylights and large front windows that allow for great natural light. Yoga room has bamboo floors, floor to ceiling mirrors on one wall, charming red brick on the back wall with industrial warehouse windows. Meditation room has concrete floors, with plush rugs, minimal furniture, 200lb citrine crystal on a small table. Also have a lobby area, a changing room with small restroom and two showers and an accessible restroom, all of which can be used for back of house/makeup/costume etc. Plentiful street parking is available for crew and trucks.
Lovely garden/patio for small events & produtions
Our garden/patio is a quiet and cozy gem in East Pasadena, perfect for small gatherings, meetings, workshops, baby showers, small photo and video productions, etc. It is a wide and lovely space that includes a cozy outdoor toilet (no shower), a patio with a wicker set, a bistro set, a fountain, chairs, fruit trees and a small veggie garden. Included in the rental is our lovely small dance/rehearsal studio (it's a converted double garage), that you can use for music, dancing, storing things or for a workshop. We are looking forward to hosting you and your friends/crew!
Architectural gem in Old Town Pasadena
A vibrant, contemporary setting perfect for events, private parties, and filming. Featuring a large studio with hardwood floors, skylights and 38' high ceilings. Conveniently located in Old Pasadena, close to the park, eateries, shopping and hotels, with parking garage next door. We have many space options and can adapt to your needs.