Rent Documentary Shoot venues in Las Vegas, NV
Find the right location for your next Documentary Shoot. Browse a wide variety of local Documentary Shoot locations throughout Las Vegas, NV and book your venue in minutes on Giggster.
How to rent Documentary Shoot locations in Las Vegas, NV
Search locations in Las Vegas, NV
Explore our wide variety of unique film and event friendly locations.
Contact hosts
Connect with hosts to set up scouts and lock down the details
Book your venue
Reserve your Documentary Shoot venue in just a few clicks.
Executive Luxury Estate for high end events!
LUXURY ESTATE VENUE This gorgeous 25,000+ square foot castle style estate is situated on 2.2 acres and less than a mile from the Las Vegas strip. This is the perfect venue to host your next Corporate Outing, Launch Party, Wedding Rehearsal, or Social Event with over 300+ guests list! Click below to see a video of the Venue https://www.youtube.com/watch?v=fT15vxO4ir8 Custom pricing is available upon request depending on availability. Hourly rate varies from $150 to $500/ hr depending on the type of shoot, production and crew size. There will be a site rep present to assist, answer any questions you might have and to help make your experience the best one. There are over 8,000+ indoor event space with a Pool Table, Full Bar Setup, Poker Rooms, and 15,000+ outdoor space with a pro-sized tennis court. There's 30 parking space and Valet Service available upon request. There are 2 large Master bedrooms with 2 full bathrooms, Large Kitchen and Dining Area, with 2 additional bathroom in the indoor area. There are also 2 additional guest rooms in the outside back area with 2 full bathroom. Inquire within for multiple days booking or overnight stay.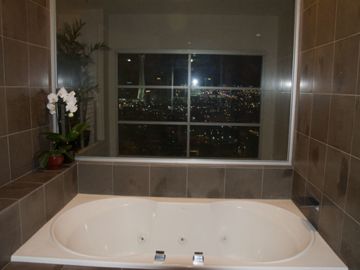 Penthouse Loft with Las Vegas Strip View
Penthouse loft with incredible view of the Las Vegas Strip. Contemporary minimalist loft design with 25 foot ceilings.
Largest Industrial Factory Film & Backlot Studio
One of the largest studios and most iconic structure as the last remaining factory plants from 1960s era Las Vegas! Our studio is a unique industrial factory & warehouse space that covers 156,000sqft under cover on a 7 acre site. The indoor areas include five stages ranging from 1,500sqft to 10,000sqft, plus multiple 'Utility' spaces of 1,000sqft to 20,000sqft with car parking for 300 cars and office facilities also available. Hundreds of looks in every corner make this studio a very adaptable and scalable location for Events, TV & Movie Filming and small & large-scale photography projects.