Rent Bridal Shower venues in Joshua Tree, CA
Find the right location for your next Bridal Shower. Browse a wide variety of local Bridal Shower locations throughout Joshua Tree, CA and book your venue in minutes on Giggster.
How to rent Bridal Shower locations in Joshua Tree, CA
Search locations in Joshua Tree, CA
Explore our wide variety of unique film and event friendly locations.
Contact hosts
Connect with hosts to set up scouts and lock down the details
Book your venue
Reserve your Bridal Shower venue in just a few clicks.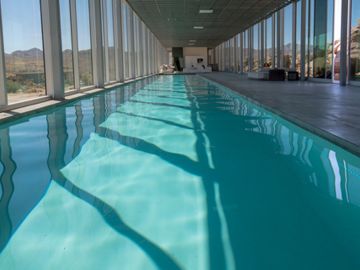 Invisible Mirrored House
Nestled on 90 acres of rocks, The Invisible House is an architectural wonder like something from another world and from the future. It's great for commercial, film, showcase presentations, and product launching. The house inspires awe and would be a stunning choice for events, photo shoots, fashion shoots, conventions, and retreats of all kinds. There is something extraordinarily epic and elegant about seeing the house or being in it under stars which makes it a wonderful place for dinners, weddings, and parties. There is a 100 foot pool lined with lights which change color, as well as 3 spacious bedrooms with views of the surrounding landscape.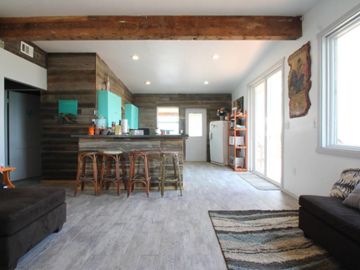 6381 Rustic Desert Escape
Secluded pristine 10 acre ranch just 2 miles from Indian cove, 5 miles to downtown Joshua Tree. A 100% "off the grid" vintage travel trailer with an amazing deck with a huge fire-pit area and a private mountain-top to pitch a tent, enjoy the views & stargaze.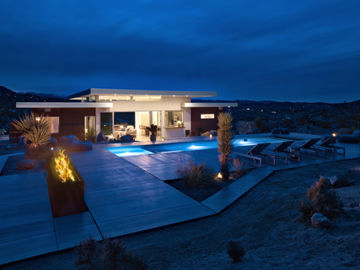 SkyHouse Joshua Tree
A new standard for the high desert, SkyHouse is a signature architectural and inspirational hideaway perched on 8 private acres in the heart of Joshua Tree, with a luxury pool and direct walking access to miles of national park trails. SkyHouse is the collective expression of lifelong Los Angeles friends with a passion for the desert, for art and for living well. We hope our home provides you with the same sense of awe we experience each time we visit Joshua Tree. A perfect fusion of Wabi Sabi and modern design, SkyHouse features all the comforts of city living while retaining a deep connection to the surrounding desert and all its natural beauty. Soaring rooflines cap walls of sliding glass to ensure you're always connected to the outdoors, even when nestled in the comfort of multi-zone climate controls. The expansive 1800 sq. ft. outdoor deck features multiple integrated gardens and includes a heated pool with integrated hot tub and retractable cover. There's also an oversized 10 foot long fire pit for staying warm while stargazing at night. And additional decks on the East and West side of the house provide ample space for enjoying all the unobstructed views of the valley and mountains. Amenities: - Rare location with direct walk-on access to the Desert View Conservation Area of Joshua Tree National Park - Four minute drive to the center of Joshua Tree with restaurants, coffee shops, yoga studios and more. - Two car covered garage with twin Level 2 electric car chargers - Multi-zone wireless Sonos audio throughout the home and on both outdoor patios - 65" display with surround sound, Netflix and Amazon Prime video - Chef's kitchen with dual sinks and oversized island for casual dining - 10-foot outdoor dining table for formal meals with unobstructed views of snow-capped Mount Gorgonio. - Three king sized beds with Belgian linen duvets, abundant down pillows and mattresses by Nest Bedding. - Two full bathrooms with high end fixtures, rain shower and custom finishes. - Outdoor shower for after-pool rinses and simply enjoying the fresh air on warm days. - 10-foot gas firepit poolside -Welcome to SkyHouse- ***A note about SkyHouse Location Fees:*** Since opening just a few months ago, SkyHouse has been selected as a location for over a dozen commercial clients including global automotive brands, national fashion and jewelry lines as well as multiple well-known recording artists. In addition to being a popular location for production, SkyHouse is also a very popular vacation destination and is frequently booked on Airbnb. Our overnight guests check out at 11am and new guests check in at 4pm. Any production beginning before 11 or ending after 4pm will require us to block off the house on Airbnb, where guests are currently renting for up to $1000 per night. We share this so you understand our rate structure. If you require full access to the house and property, all-day (6am - 11pm) location access starts at $3500 for a crew of 10 or fewer. Please inquire about rates for larger productions. If you can limit your production to the hours of 6am to 1pm, or 3pm to 10pm, location access starts at $2500. If you have a limited budget, you can book an outdoor-only shoot between the hours of 11am and 4pm for $295 per hour. Please inquire about rates for larger productions or any access requiring longer times than those listed above. Also note that overnight lodging at SkyHouse can be added at 30% off listed rates.