Conference Room for Production Teams
Conference room, ideal for creative meetings, production meetings, or casting. The 400 squarefoot conference room has two large moveable tables, concrete flooring, and an large exposed brick wall. There's a large white board at one end of the conference room. The space has an available kitchen and two bathrooms 15 guests max | 450 sq. feet | Office/Conference/Co-Working | 1 Rooms | 2 Bathrooms PARKING: *** PARKING IS NOT INCLUDED *** Up to 7 spots are available in the parking lot. Spots are $20 per spot. PRICING for office use or meetings $40 per hour $300 per day PRICING for FILMING / PRODUCTION USE $80 per hour $550 for 8 hours $850 for 13 hours OT (past pre-booked time) is $175/hour.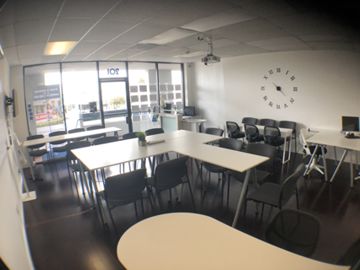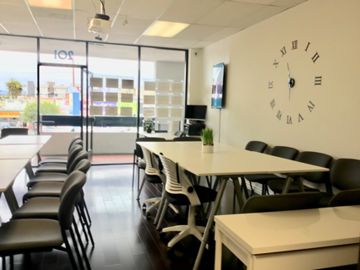 Modular Office in Culver City
This large, clean, modern modular office can be used for presentations or to bring your team to work on a project. Interview potential employees, Auditions & more. We also have a private Conference Room that sits 8 people. Free Parking -Make your own Coffee here
Beautiful New Culver City Office Spaces
TLDR: By shooting in our offices, you get the benefit of taking advantage of a state of the art sound stage facility in Culver City for a fraction of the cost! Oh, and you don't need a Film LA Permit to shoot at our studio since we are a certified production facility! Our rate includes a parking lot, 7,000 sf for catering/crafty/staging, chairs & tables, utilities/AC. The offices are brand new and very spacious. The North Office has a conference room with an 80-inch flat screen TV, large communal space, kitchen, and bathroom. The South Office has 2 private individual offices, large communal space, kitchen, and bathroom. Each office is furnished. Additional professional rooms available: makeup/hair, green room, production office, and wardrobe room. Please inquire for more details! ADDITIONAL INFO: Insurance required? Yes AC? Yes Deposit required? Only from Giggster Drones allowed? Yes Trailers allowed? Yes Pets allowed? Yes Child-talent allowed? Yes Generator allowed? Yes but you will not need one. Furniture/wall art movement allowed? Yes but no drilling Wifi speed? 300mb/s speeds Mobile/cellular network reception? Great Noise restrictions? No Can you record clean dialogue? Absolutely What is noise in the surrounding area like? Very Quiet How many outlets are available? We have an incredible amount of power in the facility with hookups. We also provide power distro should you need to bring in more power to the offices from our sound stage. How many bathrooms do you have? 4 Is there dedicated space available for hair & makeup? Yes Square Footage? The facility is close to 18,000 sf each office is roughly 1,800 sf with 7,000 sf of loading space used for staging, crafty, catering included in price. What is the natural light like (exposure, # of windows)? Ceiling to floor windows in offices with drop-down curtains. Will there be an on-site manager present during the booking? Yes. What are the parking and load-in / load-out options on site? Easy load in with two 16 x 10 sliding doors, parking for 37 cars onsite plus trucks. An additional parking lot for 90+ vehicles available.