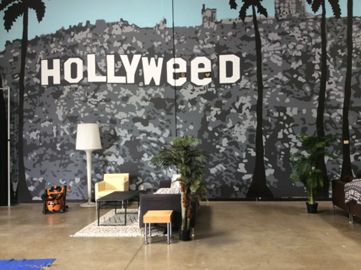 Unique space for events, filming or photo shoots
Our property has both a warehouse feel and an eclectic vibe. We can customize our space to create the experience you are looking for. We also have cameras, sound, lighting and a scissor lift to help with your production needs. We can work with your budget to create a project on time and on budget.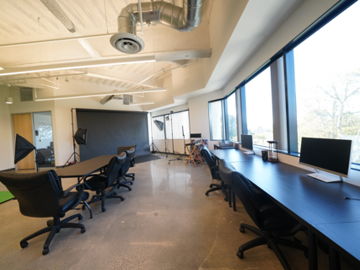 Modern West LA Creative Studio
Home of your next photo shoot, video shoot, music video, commercial, production, corporate meeting, art show, or creative gathering. We are located in the heart of Culver City adjacent to Silicon Beach. Our modern and motivating workspace includes the following: - Full Wardrobe Dressing Room - Lounge Area with Couches, Leather Chairs & Tables - Kitchen with sink - Keurig - Mini Fridge & Freezer - Dishwasher Additional Equipment Available: - 4x 3-Point Lighting Kits (3 softboxes, 1 with long boom arm) - 4x Dimmable LED Ring Lights (white and orange filters) - 8x Photo Umbrella Lights - 4x 13'x13' Heavy Duty Backdrop Support Kits - 4x 10.5' C-Stands with a Grip Head and 40" Arm - 8x 8' Light Stands - 20x 15lb Sand Bags - 2x Rolling Dollies - 5x Centerfold Black Tables - 4x Director Chairs - 2x Heavy Duty Tripods - 2x Apple Box - 2x Clothing Racks - 1x Clothing Steamer - 1x DJI Ronin-S Stabilizer - 1x Sony A7SII DSLR Camera - 1x RED Epic M-X 5K Cinema Camera - 1x Rokinon XEEN Cinema Lens Kit (14mm, 24mm, 35mm, 50mm, 85mm) Backdrop Colors Available [Savage Seamless Paper] - Super White, Black, Tech Green, Studio Blue, True Blue, Primary Red, Purple, Pink, Deep Yellow, and Marmalade ON AND NEAR PREMISES: - On Site Garage Parking ($15/day max) - Street Parking - 2x Cafes in complex - Food Truck rotation daily - Courtyard features hammocks, eating areas, wifi, water fountain, yard chess, bikes for campus - Easy entry from Slauson Ave & Sepulveda Blvd - Easy access to Hwy 90, Westfield Culver City Mall, Target, BestBuy, JC Penny, Macys, OfficeDepot, Chipotle, Trader Joes & Sprouts
Unique Stylish Space
Our sleek, stylish space is perfect for professional productions including photo shoots, commercial and music videos or private experiences. Photo-ready from every angle, featuring contemporary art and modern design, our space has that VIP touch of luxury, elegance, and style. A striking space featuring a large lounge area and room for whatever you can imagine.