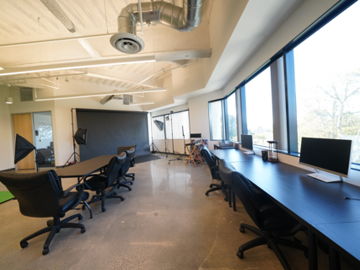 Modern West LA Creative Studio
Home of your next photo shoot, video shoot, music video, commercial, production, corporate meeting, art show, or creative gathering. We are located in the heart of Culver City adjacent to Silicon Beach. Our modern and motivating workspace includes the following: - Full Wardrobe Dressing Room - Lounge Area with Couches, Leather Chairs & Tables - Kitchen with sink - Keurig - Mini Fridge & Freezer - Dishwasher Additional Equipment Available: - 4x 3-Point Lighting Kits (3 softboxes, 1 with long boom arm) - 4x Dimmable LED Ring Lights (white and orange filters) - 8x Photo Umbrella Lights - 4x 13'x13' Heavy Duty Backdrop Support Kits - 4x 10.5' C-Stands with a Grip Head and 40" Arm - 8x 8' Light Stands - 20x 15lb Sand Bags - 2x Rolling Dollies - 5x Centerfold Black Tables - 4x Director Chairs - 2x Heavy Duty Tripods - 2x Apple Box - 2x Clothing Racks - 1x Clothing Steamer - 1x DJI Ronin-S Stabilizer - 1x Sony A7SII DSLR Camera - 1x RED Epic M-X 5K Cinema Camera - 1x Rokinon XEEN Cinema Lens Kit (14mm, 24mm, 35mm, 50mm, 85mm) Backdrop Colors Available [Savage Seamless Paper] - Super White, Black, Tech Green, Studio Blue, True Blue, Primary Red, Purple, Pink, Deep Yellow, and Marmalade ON AND NEAR PREMISES: - On Site Garage Parking ($15/day max) - Street Parking - 2x Cafes in complex - Food Truck rotation daily - Courtyard features hammocks, eating areas, wifi, water fountain, yard chess, bikes for campus - Easy entry from Slauson Ave & Sepulveda Blvd - Easy access to Hwy 90, Westfield Culver City Mall, Target, BestBuy, JC Penny, Macys, OfficeDepot, Chipotle, Trader Joes & Sprouts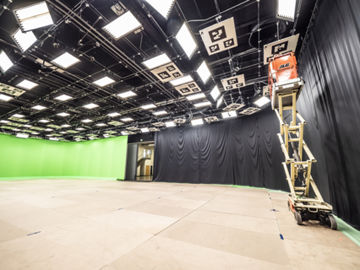 Beautiful Sound Stage Facility
Please message us for more accurate pricing. Our studio provides both traditional and virtual production needs for any type of project whether its a photoshoot, music video, commercial, industrial, video game, television or feature film. The stage is equipped with a 360-degree wrapped green screen with a painted floor. The stage can be easily converted from a green screen to a black box set up. The studio interior is rated at STC48 and boasts a silent A/C system. Access to the stage is via a rolling 16' x 20' sound door. Please inquire for more details and come take a tour! Minimum Daily Rate that is shown is based on a still shoot with a crew/talent size of 15 or less @ 12hrs/day. Rates may increase depending on use of other areas. Please inquire for rates and include the following details: Job Name: Dates Needed: Crew/Talent Size: Miscellaneous Info Relevant to Your Shoot: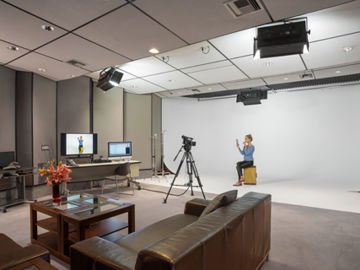 High-End 3 Wall Cyclorama Stage, Studio, Office
We are a full service Casting, Photography, Sound, Video Games, Looping, ADR, Podcast Studio and Post-Production facility with a 22 foot 3 wall cyclorama and green screen. We are located next to Sony and Culver Studios in Downtown Culver City. We offer separate multi-use stages, equipment rentals, casting services, and temporary production space.