Rent Dinner venues in California, CA
Find the right location for your next Dinner. Browse a wide variety of local Dinner locations throughout California, CA and book your venue in minutes on Giggster.
How to rent Dinner locations in California, CA
Search locations in California, CA
Explore our wide variety of unique film and event friendly locations.
Contact hosts
Connect with hosts to set up scouts and lock down the details
Book your venue
Reserve your Dinner venue in just a few clicks.
Photographer's Dream - Amazing Views! Modern Int
Perched on a 1.5 acre hilltop, this beautiful paradise has an infinity pool with the most stunning views of the entire town! Clean, smogless views and breath-taking sunsets make this the ultimate location for photo shoots and music videos. The entire yard, and interior, has views from every window. An abundance of sunlight illuminates the entire home. This location is a photographer's dream, both inside and out. There are three bright, modern living rooms with stone floors, three fireplaces, a master bedroom, 2 additional bedrooms, and a lovely spiral staircase. All rooms are light colors, great for photography and film. Up to 20 cars can be parked on top of the hill, and many more can be parked on the street. Large trucks are never a problem getting up the hill! This is a very uniquely situated property - must see! - Private location on hilltop w/ security gate down below - 15 minutes from the SF Valley - 5 minutes from 101 Fwy * Fully compliant with county zoning regulations (Not an "event venue")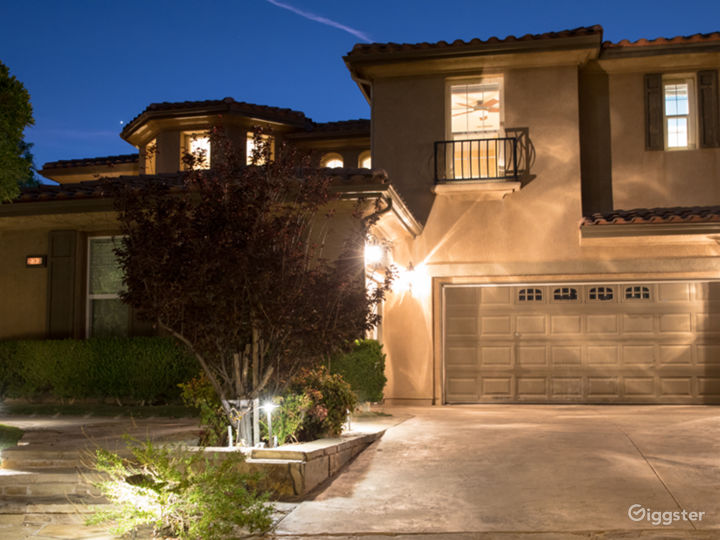 Beautiful Mediterranean Style House!
-4200 square feet, 5 bedrooms 5 baths -pool & jacuzzi in the backyard and a built-in barbecue! -2 lounge areas in the backyard and a very beautiful courtyard. -backs up to a mountain and is right behind magic mountain.
910 Mediterranean Thousand Oaks
Mediterranean home on a hill with extravagant backyard and valley views