Rent Training venues in Burbank, CA
Find the right location for your next Training. Browse a wide variety of local Training locations throughout Burbank, CA and book your venue in minutes on Giggster.
How to rent Training locations in Burbank, CA
Search locations in Burbank, CA
Explore our wide variety of unique film and event friendly locations.
Contact hosts
Connect with hosts to set up scouts and lock down the details
Book your venue
Reserve your Training venue in just a few clicks.
Feature Film Office
Great property, easy access, lots of parking and very friendly neighbors. The location and the parking lot has been used in three feature films.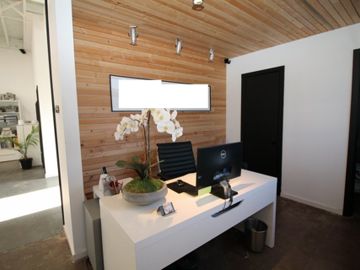 6418 CREATIVE OFFICE
The Minimum Day Rate is based on a non-commercial still shoot with a crew/talent size of 15 or less @ an 10 hour day. Please inquire for rates on larger impact shoots & events and include the following details about your project. Job Name: Dates Needed: What The Project is For: Crew/Talent Size: Hours Needed: Areas Needed: Miscellaneous Info Relevant to Your Project:
The Resonate Building
An ideal facility for photo shoots, interviews, movie shoots and/or any other purpose which requires many different locations within the same building.The common areas are naturally lit via many skylights and windows, the lounges, two of which are delineated using paper walls that can be moved in an instant, are easily configurable, the recording studios are excellent for those on-mic shots of singers, the control rooms are also excellent for shots of producers, engineers and artists at work, and in general, the facility offers a tremendous amount of possibilities.The facility also includes an office, a kitchen, two ultra-sexy bathrooms, and a warehouse, all ready for shooting.At night, the facility's many metallic surfaces and light installations allow the facility to take on the look of an upscale club/bar/hotel.