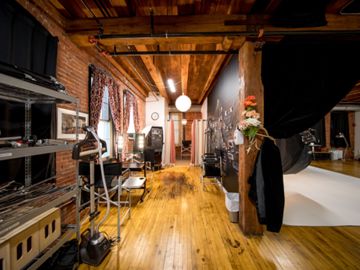 Boston's Finest Photo & Video Studio
Space Details: • 20 Ft. wide White Infinity Cyclorama • 14 Ft Ceilings • 800 Sq Ft Studio Bay • Manfrotto Ceiling Rail • Photography Lighting Included: 3x Einstein Alien Bees • Fully controlled Lighting RATES Weekdays (Monday-Friday) • 10AM-6PM: 45/Hour • After Hours: 65/Hour • Day (10-6PM): 300/Day Weekends (Saturday-Sunday) • 10AM-6PM: 55/Hour • After Hours: 65/Hour • Day (10-6PM): 375/Day PLEASE READ. Minimum 2 Hours for Weekdays. Minimum 3 Hours for Weekends. Off-hour bookings are up for review before the rental can be confirmed. All Grip Equipment such as Light Stands, C-Stands, & Tripods for additional $15/Day. Other gear such as Continuous Lights & Light Modifiers, Cameras, & Lens available. *Amenities:* • Sand Bags • C-Stands • Hair Dryer • Make up station • Water Bubbler • Fridge • Keurig • Microwave • Conference room • Large Screen TV • Black-out Curtains • Posing Table/Seat • High Stool • Cyber Commander Control • 3 X E640 Strobes • 3 X Ikan LED Panels (500W, 500W, 1000W) - Included in your studio booking. • 3 X Modifiers • Light Stands • Discounted Equipment Rentals • Changing Room • Crosley Music Player • Fans • Hair Dryer • Clothing Steamer (make sure your model looks perfect) • Gaff Tap - Additional Cost • Apple TV • WIFI • AC/Heat • Parking • Instagram Wall *Additional Upgrades:* • Savage Backdrops (Additional Cost) - Typically available are white, black, green, gray, blue, and red. • Upgrade your photography lighting to Profoto Strobes and Modifiers. • Upgrade your video lighting with Litepanels (Daylight or BiColor) or Dracast Lights (Daylight or BiColor) • Camera Equipment Rentals • Photo Lens Rentals (Nikons, Canon, and Sony available). Additional Features: *Conference Room* Handmade conference table fits six. Table is equipped with conference phones, Canon Photo Printers, 55'' TV with Apple TV. Window blinds gives complete view of studio bay but also allows for privacy. *Make Up & Changing Room* 2 Dedicated Make-up tables with modeling lights and plenty of chairs. *Lobby & Reception* Impress your clients and models instantly by giving them a warm welcome. For larger photo sessions, clients may wait here before bring brought in for their shoot. LOCATION • Plenty of Parking available outside the building • 10 minutes drive from Downtown Boston, right off I-93. • 5 Minutes walk from Sullivan Square Train Station - Orange Line. • Ramp available in the back for wheelchair access & bringing heavy equipment Need help planning your studio shoot, just message us or give us a call. About Us: We've been serving photographers and videographers since late 2013. We believe that a photo studio should be more than a backdrop, set of lights, and a place to shoot. A photo studio should be a controlled setting designed to facilitate your creative shooting process. More importantly, it should never limit you. In a studio with a full infinity backdrop, powerful strobes, integrated workstation, and much more, nothing can stop you from what you're meant to do. The infinity backdrop may create the illusion of infinite space, but you create the reality of your infinite creativity. If you have any questions about the studio or equipment rental feel free to send us an inquiry. We are open Monday through Friday from 10AM to 6PM. Bookings are available also off regular working hours and weekends.
Creative Workspace with tons of Natural Light
This boutique space acts as a coworking space by day and a flexible event space on nights and weekends. Natural light pours in through the large windows overlooking Newbury Street and the open layout makes it perfect for art or fashion related events, baby and bridal showers, gender reveals, product launches, large presentations, and any kind of soiree you can think up.
Celebrate with Celebrities!
Unique and unforgettable venue with over 100 celebrities, heroes and sports stars! Fully decorated with 12 immersive theme rooms. This space also features Augmented Reality and live events from The Stage.