Mexican Riviera in LA
* NOTE - As of 11/9/2018, our entire property burned to the ground. We are actively rebuilding (switching to a very cool modern look!), but do not expect to be finished to the point of renting until Jan of 2022. Please excuse any inconvenience this has caused. Renowned Cabo San Lucas architect Prospero Tapia was commissioned to design what he called "a big fishbowl with views from every angle" on one of the most private picturesque settings in all of Los Angeles County. Inside the 30 mile circle, you will never pay travel fees for your crew, and once you get here you will not want to leave. You will escape the traffic noise, hustle and bustle of typical locations in LA and feel like you have been transported to the Mexican Riviera. The secluded mansion house has high ceilings, very few walls cutting up rooms, infinity pool and lots of privacy characterize this uniques space that is perfect for a photo shoot, video shoot, car shoot, corporate event, dinner, retreat, performance, workshop, networking event, pop-up, yoga studio, and anything else you can dream up. Some other features include a garden, fireplace, bathtub, grill, pool, gazebo, kitchen, patio, deck and fire pit. Permit info on the listing is incorrect. LA County Permit only. We also have a FULL PRODUCTION STUDIO on site also! Check out our other listing at the same address. No parties or weddings please.
Airstream in the Malibu Mountains
This is a 1970's airstream which sits on 2.5 acre property in the Malibu Mountains near Malibu Lake.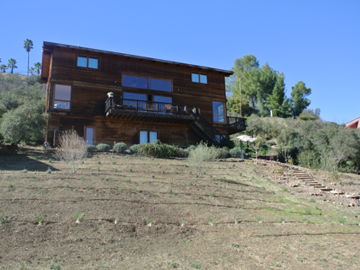 Modern and Rustic Malibu Mountains
Modern and rustic 3000 sf house on 2.5 races with a pool