7 Best Outdoor Party Locations in Georgia
Got the perfect party in mind but need a place to host it? Well we've got you covered. With plenty of open air spaces to keep the party breezy and open area to turn the moves on, these outdoor party locations in Georgia are picture perfect spaces to organize your dream party. Whether you're looking for something formal, or something hippie, here is our pick for the 7 best outdoor party venues in Georgia.
---
7) Private Resort Style Home
A fully integrated modern smart home, this private resort estate is fully topped with exquisite design and luxurious amenities. The perfect party space with in-ceiling speakers, lighting control, in-wall iPad controls, color changing LED lights and much more, your party is going to be through the roof! There's plenty more features the space has to offer, so please click the link below to check out the place in detail.
Available on Giggster, starting at $400/hr.
---
6) Trendy Beach Style Restaurant Space & Street Patio
A stunning restaurant/cafe in the heart of downtown Atlanta, this trendy beach style space has played host to many a party. The restaurant also has a street patio section which adds to the atmosphere. Great for organizing a formal affair with an air of relaxation and friendliness, you don't even have to worry about the F & B logistics. A sweet deal indeed.
Available on Giggster, starting at $299/hr.
---
5) Rare Classic Mid-Century Home
A mid-century modern home on a hill, this classic property with a large yard has both a front yard and backyard you can use for your party purposes. Located amidst a gorgeous outcrop of trees, the interiors are incredible as well featuring an open floor plan that makes the space easy to configure as needed.
Available on Giggster, starting at $49/hr.
---
4) Abandoned Open Land
If you're looking to host an open air party in an open field, then this listing is the one you should go for! A working urban certified organic farm, the location is private and has gated access. With over 5 acres of accessible area, there's all sorts of space to set up stages, speakers, food counters and anything else you might have in mind. Best for throwing a large party, there's parking for more than 150 cars available onsite!
Available on Giggster, starting at $43/hr.
---
3) Estate Home with Open Backyard
A gorgeous estate in Sandy Springs, this mansion is great for organising an outdoor affair. Long driveways lead into huge grounds which can be fitted to accommodate your party needs. The backyard is well landscaped with plenty of shrubbery and bushes, adding a very scenic appeal to the property. A space that looks great on camera as well, you party is definitely going to enjoy the ambience here.
Available on Giggster, starting at $150/hr.
---
2) Craftsman Home with Stunning Backyard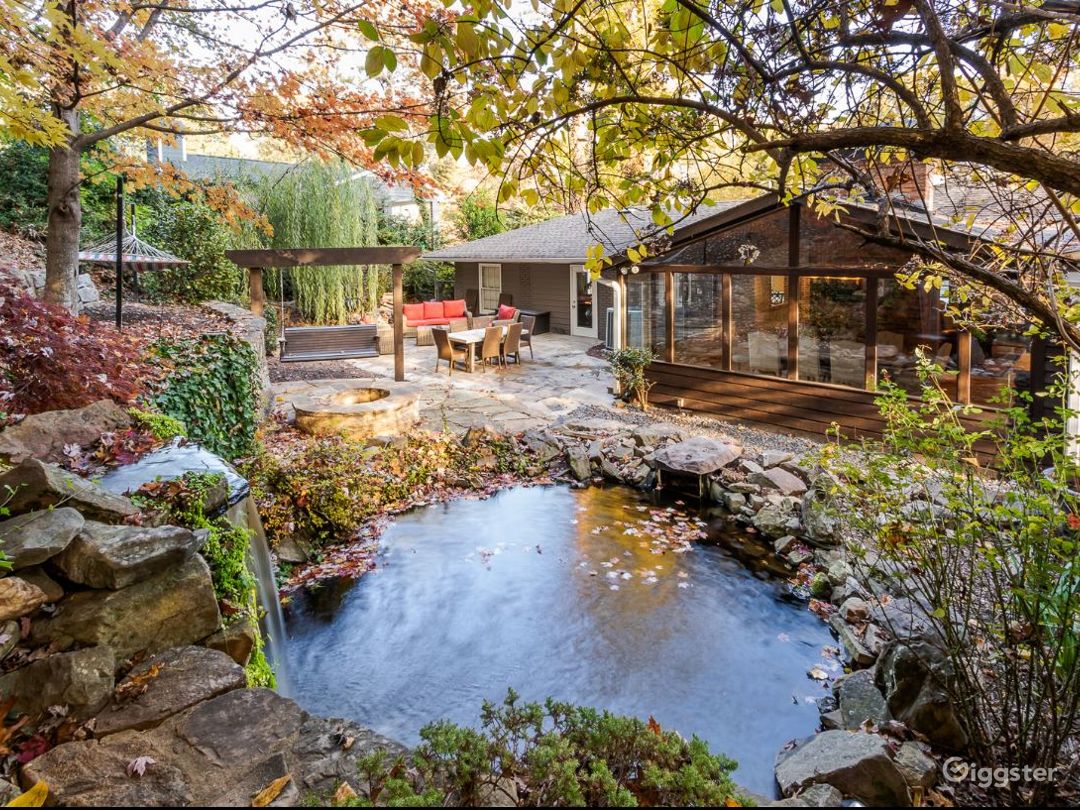 A delightful home with an exceptional outdoor area, this charming spot is perfect for hosting an outdoor event. The lush open yard, outdoor patio and conversation area and a picture perfect pond add a lot of vibrancy and freshness to the space. Just fit in a few tables in the incredible yard and voila, your party is now happening in a dream location.
Available on Giggster, starting at $83/hr.
---
1) Brick Home with Lush Backyard
A rustic home with a simple backyard, this listing has a decently sized yard which can provide an intimate atmosphere for a small crowd. Perfect for a family affair, or an outdoor party with your loved ones, this home has a relaxed vibe and is the perfect setting to lay out some tables and have a great time!
Available on Giggster, starting at $120/hr.
---
These listings have a lot going on from them and between them, cover a range of prices and looks. The open areas they have also look charming on the camera and can add a lot of flavour to the photos and videos you take during the party. In case you're looking for something particular that is not on this list, then don't worry, hope is not lost. Click the link to go through all our outdoor party venues in Georgia